The KURONO Anniversary special edition is a significant part of the brand line-up. It serves as an important reminder of our humble beginnings and the reason why the initiative was started - To create high-quality, Japan-made luxury timepieces that shares the design DNA of celebrated independent Japanese watchmaker Hajime Asaoka's exclusive handmade atelier watches.
Because of this, we spend a little more time in the consideration of every year's anniversary watch not just on the design phase, but across the entire manufacture process to deliver on two core promises - That every Anniversary watch will be exceptional yet highly affordable; and that whoever that has been waiting for one shall get one.
To understand KURONO Anniversary is to understand Hajime Asaoka's philosophy as a watchmaker - his personal beliefs, inclinations, and motivations - and his approach to this year's KURONO Anniversary watch. It is our hope that his words will give you a better insight to the beginnings of this initiative, and the result of almost a year of planning - KURONO Tokyo is proud to present the KURONO Anniversary 朱鷺:TOKI.
This year's anniversary watch is something Hajime-sensei crafted first and foremost as a watch he himself would like to wear, and then to extend his personal sense of style and refinement to a wider audience.
The new KURONO Anniversary 朱鷺:Toki is priced at priced at USD1,738 / JPY189,900, and is available for time-limited order on 21st May 2021 2300hrs JST at www.kuronotokyo.com
アニバーサリーエディション(記念モデル)は、KURONOブランドの商品展開において節目の作品であり、ブランドの原点を呼び起こすもの―それは日本の有名な独立時計師・浅岡肇が全ての工程を手がけるアトリエウォッチとそのデザインDNAを共有する日本製腕時計を、高品質・手の届きやすい形で世に送り出すということです。KURONOの時計のコンセプトは、「浅岡肇のプライベートウォッチ」であり、今回のブランド設立2周年記念モデル「朱鷺:TOKI」も浅岡自身が身に着けたい時計として作られました。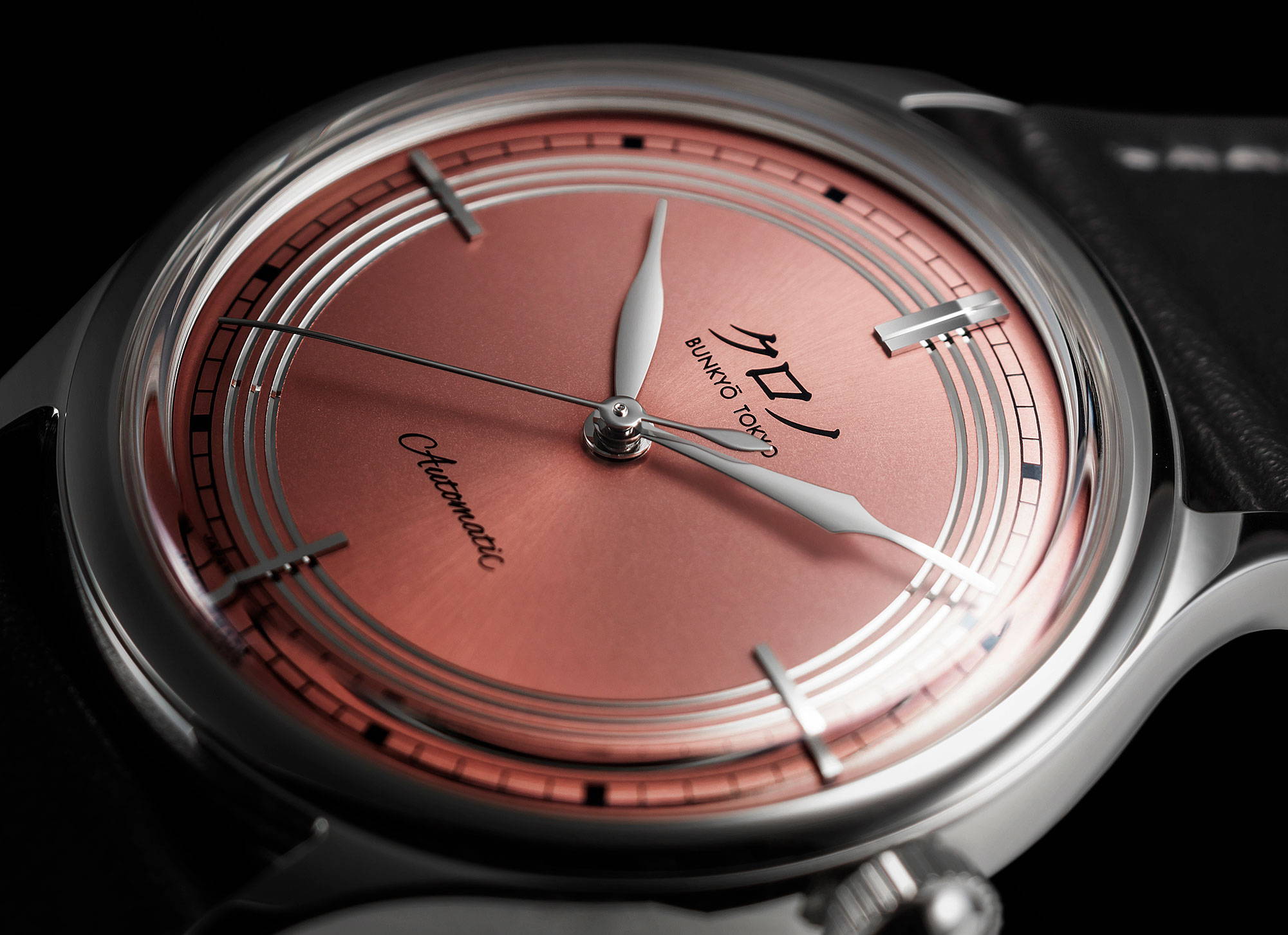 「 I have been fortunate to have two rare careers. One is as an independent watchmaker, and the other is as a designer. I started my career as a designer, and it went very well working for many big luxury brands. But no matter how good I thought a design was, the final decision was still from the client and at times they ask for questionable design changes. This was frustrating to me as the end-result would sometimes be more of what a boardroom created, than what I designed.
「私は2つの顔があります。一つは独立時計師で、もう一つはデザイナーです。これは稀有なキャリアであると思います。元々はデザイナーでしたが、多くのラグジュアリーブランドから仕事をいただくなど、とても仕事に恵まれました。しかしどんなに自分が良いと思うデザインを考えても、最終決定はクライアント側にあり、自分の中では納得のいかないデザイン変更を要求されることもありました。そうしたデザインは私の作品というよりも、半ばクライアントの作品とも呼ぶべきものであり、私には納得のいかないものでした。
This was an important step to self-realization and why I became an independent watchmaker. I could make something I designed by myself, without anyone getting in the way. Watches would become a work of art that express my intentions fully.
こうした過程が自身の芸術を表現するに至ったきっかけであり、独立時計師になった理由でもあります。独立時計師の活動においては誰の意見にも左右されず、自身がデザインしたものを作ることができました。そうして製作されたアトリエウォッチは私の意図を十分に表現した芸術作品となりました。
KURONO was started because I wanted to have something that I wanted to wear myself, as the atelier watches I made have been in such high demand, that every single atelier watch is meant for clients. They have been waiting for so long, that it is only right that it reaches them the very moment it leaves my workshop, and that nothing is held back.
私がKURONOを始めた理由として、自分自身が着ける時計が欲しかったというのがあります。というのも独立時計師として製作するアトリエウォッチはとても注文が多いため、すべてお客様のために作らなければならないからです。現状、お客様に長い間お待ちいただいているため、完成した時計はすぐにお客様にお届けしなければならず、私の手元にある時間はほとんどありません。
KURONO has been made with partners and suppliers that have supported me, and I am honored by this recognition of my reputation as a well-established watchmaker.

KURONOは私を支えてくれるパートナーやサプライヤーとともに作りあげたもので、私自身も独立時計師として評価をいただいていることを大変誇りに思います。

KURONO is wholly my work as a designer, and it represents a complete expression of my own art, of my aesthetic intention, and of my philosophy. It gives me great pleasure in "making a watch for myself," and then extending this to a wider audience.

KURONOは私がデザイナーとして全面的に携わっている作品です。私の美的感覚や哲学が反映されたものです。自身のために時計を作る喜びを感じるとともに、その時計を多くの人に届けられることに幸せを感じています。
Central to my design approach is a firm belief in my work to 'never compromise on my designs.' I create watches that I myself will want to wear, and it is my hope that others will share my taste as well. A good example of this approach is the watch I am wearing now - the upcoming anniversary watch – 朱鷺:TOKI. This is an important piece to me personally and I wanted to dedicate more attention to it."
私のデザインアプローチの根幹には、『自身のデザインに妥協しない』という確固たる信念があります。私が着けたいと思う時計を作り、たくさんの人に私のテイストを理解してもらえると幸いです。その好例が、私が着用しているこの時計、つまり今度発売される時計『朱鷺:TOKI』です。『朱鷺:TOKI』は私にとって大切な一本であり、皆さんにもぜひご覧いただきたいです。」
~ Hajime Asaoka, Bunkyō Tokyo | 浅岡肇、東京都文京区 May 2021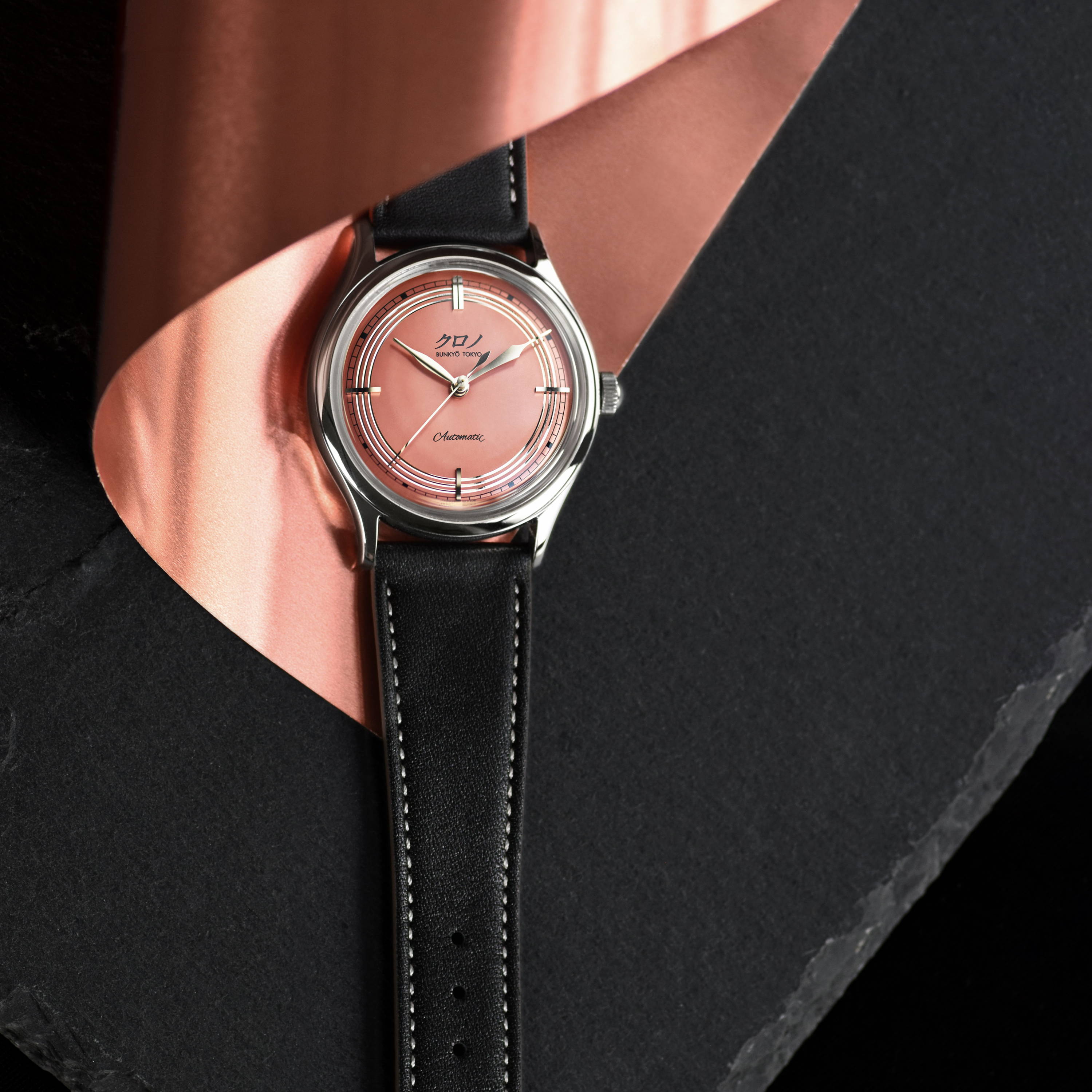 In celebration of KURONO's second-year anniversary, Hajime-sensei had a specific aim to create a color that was as unique as possible to Japanese culture, and differentiate itself from the typical 'salmon'-shade dial popular amongst watchmakers in the West.
The 316L high-polished stainless steel watch features KURONO's signature anniversary radial sunburst patterned dial that exudes an exceptional array of coruscating metallic coral shades ranging from crimson to vermillion red, and under certain lighting conditions a touch of purple. The color of the 朱鷺:Toki dial was inspired by the Japanese crested ibis, an auspicious bird with feathers of a shade akin to that of a rising sun, and is regarded as a symbol of happiness and good fortune. This emblematic Japanese bird emanates a beautiful shade of dark-pink tinged vermilion, also known as 朱鷺色Toki-iro, as it flies overhead soaring the skies. Hajime-sensei based the concept of the anniversary watch and the color of the dial off this subtle grace and allure, and aspired to portray this sentiment through his craft.
KURONOブランド設立2周年を記念し、浅岡肇は日本文化を象徴する色を文字盤色として選びました。それが今回の朱鷺色です。文字盤において朱鷺色は、KURONOブランドの特徴であるサンレイ仕上げを引き立てています。文字盤をおさめるケースは、316Lステンレススチール製の鍛造ケースであり、鏡面仕上げが施され、像がゆがみなく映り込みます。
「 For 朱鷺:TOKI, I wanted a more refined color that was uniquely Japanese. The color would be copper-based, but it could not be the 'salmon-color' that the Western world was so fond of. I decided to base the color on the feathers of the Japanese crested ibis – 朱鷺色(Toki-iro)– which is the characteristic peach-colored hue seen as the ibis flies overhead. The Japanese crested ibis is deeply rooted in our national history and we can find it in the oldest official history document, "Nihon shoki (日本書紀)" (A.D 720) .
「今回の『朱鷺:TOKI』においては、日本特有の洗練された色を目指しました。色は銅色がベースですが、西洋で好まれている『サーモンカラー』とは異なります。私は、朱鷺の羽の色―朱鷺色―、つまり大空を飛ぶ朱鷺の羽に見られる、独特の桃色を基調とすることにしました。朱鷺は日本の歴史と関わりが深く、最も古い日本の正史である『日本書紀』(720年)の中にも登場します。」
The construction of the anniversary dial took nearly a year's work of perfecting - from ideation, to sampling, to production, and ultimately, finishing. 朱鷺:TOKI represented the highest number of prototype samples made in the consideration of a single watch.
The final color was unpredictable as the shade constantly changes depending on the thickness of the paint and can only be seen after it is physically applied. After myriads of samples and experimentations with different thicknesses and mixes of paint, Hajime-sensei continued to work on fine-tuning the gloss layer as well as other aspects of the watch till it matched his standards.
Lightplay on the 朱鷺:TOKI takes a new dimension depending on the type and color temperature of the light source. In white light the purplish-coral hues of the dial take centerstage, while in yellow light its golden hues are accentuated making it look less playful and more refined.
「朱鷺:TOKI」における文字盤の選定は1年がかりの仕事でした。そしてこれまでで最も多くの数のプロトタイプを作成しました。完成したこの文字盤は、光の当たり方によって様々な表情を見せます。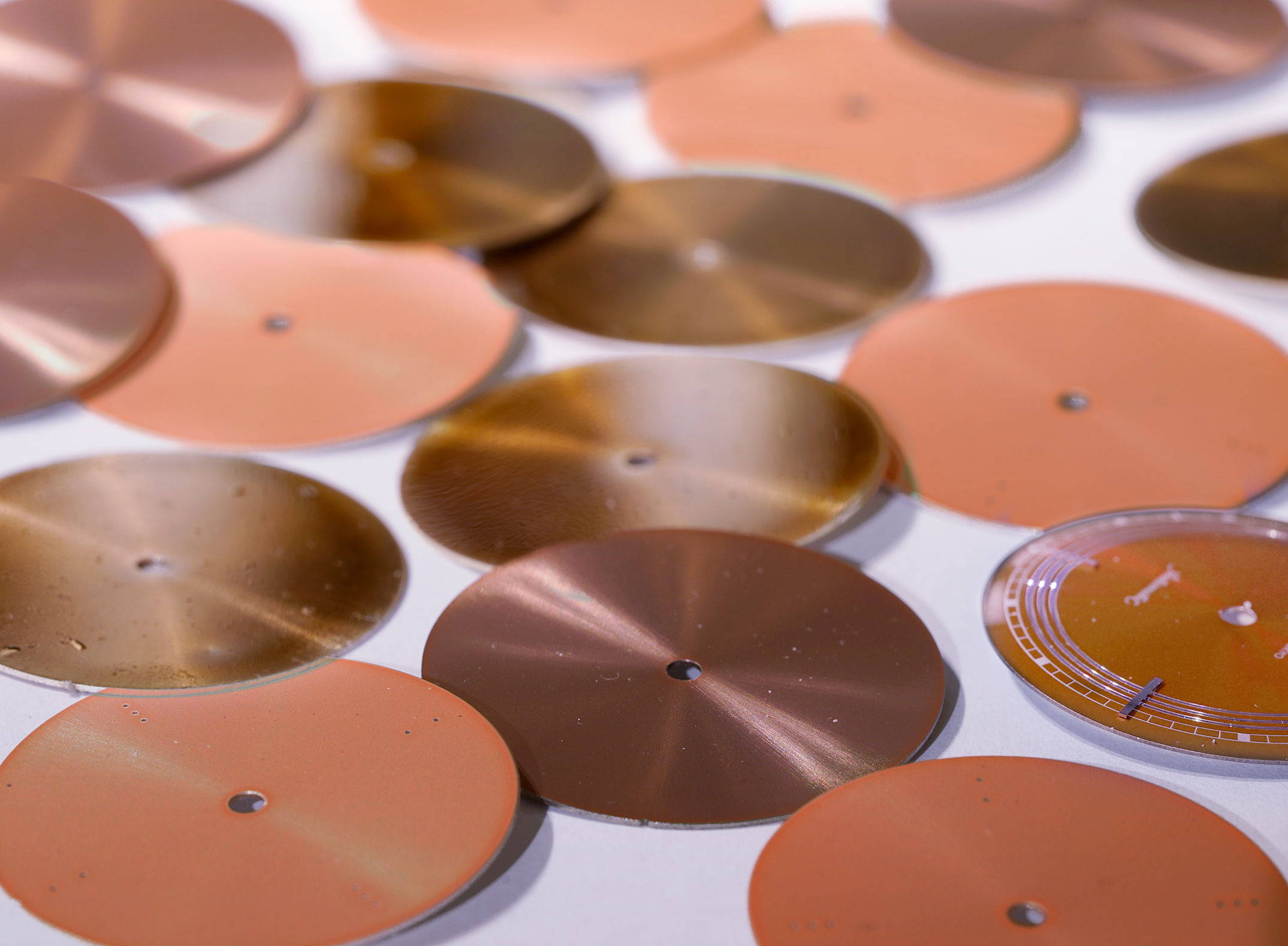 「 When I was trying to perfect the dial color of 朱鷺:TOKI, I started with painting a bare metal plate with paint that I mixed myself. After hand painting a large number of color swatches and samples, I sent the couple I liked to the dial makers. They in turn, produced quite a few dial samples which you see here – of which I subsequently chose the one that was exact to my design intention.
「『朱鷺:TOKI』における理想的な文字盤色の追求は、自身で調合した塗料を、金属プレートに塗ることから始まりました。そして膨大な数の色見本を作り、その中から気に入ったものを文字盤メーカーに送ります。ここにご覧いただけるように、かなり多くのサンプルを作り、私のデザインの意図にぴったり合うものを選びました。

The creation of the color I wanted for 朱鷺:TOKI was technically challenging. The desired color can only be achieved through the careful calibration of the thickness of the paint layer, with the bare metal dial beneath. The color of the dial changes depending on the thickness of the paint layer, and as such is impossible to predict how the final dial will turn out until it is actually produced.
理想の文字盤色に辿り着くのは技術的困難が伴いました。文字盤色は素地となる金属と、塗料のレイヤーの厚みの微調整によってのみ生み出されるものです。文字盤の色は塗料のレイヤーの厚みにより変化をし、実物が最終的に出来上がるまで文字盤がどのようになるかわかりません。
This has been a labor of love, and it is my hope that collectors will appreciate 朱鷺:TOKI as much as I love wearing it myself.
『朱鷺:TOKI』は、趣味のように楽しみながら仕事をすることで生まれた作品です。私自身がこの時計を着けるのが好きなように、時計愛好家の方々にもこの時計を楽しんでいただけたら嬉しく思います。」
The second-anniversary 朱鷺:Toki dial is a nostalgic reminiscence to KURONO's humble beginnings. As an independent watch designer with a passion for horology, Hajime-sensei established KURONO as a means to share his artistic taste with fellow watch enthusiasts.
With atelier pieces in such high demand, Hajime-sensei never had time to create a watch exclusively for himself. KURONO was birthed for him to be more experimental with his creations, and to share this aesthetic with the world. This entailed creating his ideal designs and exacting them to standards of perfection as he views KURONO equally as important as his atelier pieces, and only aims to pursue and produce exactly as he envisions.
It is our hope that the name KURONO will one day be recognized and admired by the masses - A timepiece highly admired by both creator, and consumer.
The KURONO special second-anniversary edition 朱鷺:Toki will be time-limited for exactly 10 minutes from the time of launch (21st May 2021 2300hrs JST).
ブランド設立2周年記念モデルである「朱鷺:TOKI」の文字盤は、ブランドの原点を呼び起こすものです。独立時計師・浅岡肇は、多くの時計愛好家の方々に手の届きやすい形で時計を世に送り出すという意図を以って、KURONOブランドを設立しました。その時計のコンセプトは「浅岡肇のプライベートウォッチ」です。浅岡肇が独立時計師として全ての工程を手がけるアトリエウォッチは数年お待ちいただかなければならず、浅岡自身が身に着ける時計もありませんでした。そこで浅岡自身が身に着けたい時計としてKURONOの時計が誕生しました。そしてその時計をたくさんの方々に届けることにブランドの意義があり、私たちはKURONOブランドが多くのクリエーターやお客様から高く評価していただけることを願っています。
KURONOブランド設立2周年アニバーサリーエディション「朱鷺:TOKI」は10分間の時間限定販売です。販売時間は日本時間2021年5月21日23時00分から23時10分までです。
Premium-grade Miyota 90S5 movement

Mechanical automatic winding

316L high-polished 37mm stainless steel case
Case Diameter: 37mm
Thickness: 7mm excl sapphire
Bracelet Strap: Black calf leather

Dial Finish: Metallic coral radial sunburst

Power Reserve: 40 hours



Jewels: 24 rubies
Glass: Sapphire crystal
Frequency: 28,800bph
Water Resistance: 3 ATM
Strap Widths: 20/16mm
Made in Japan

Please download high-resolutions images here
Estimated Deliveries
Mid-Jun thru Jul: 35% of orders
Aug thru Sep: 25% of orders
Oct thru Nov: 20% of orders
Dec thru Jan: 20% of orders
Price: JPY189,900 / USD1,738 excluding applicable taxes