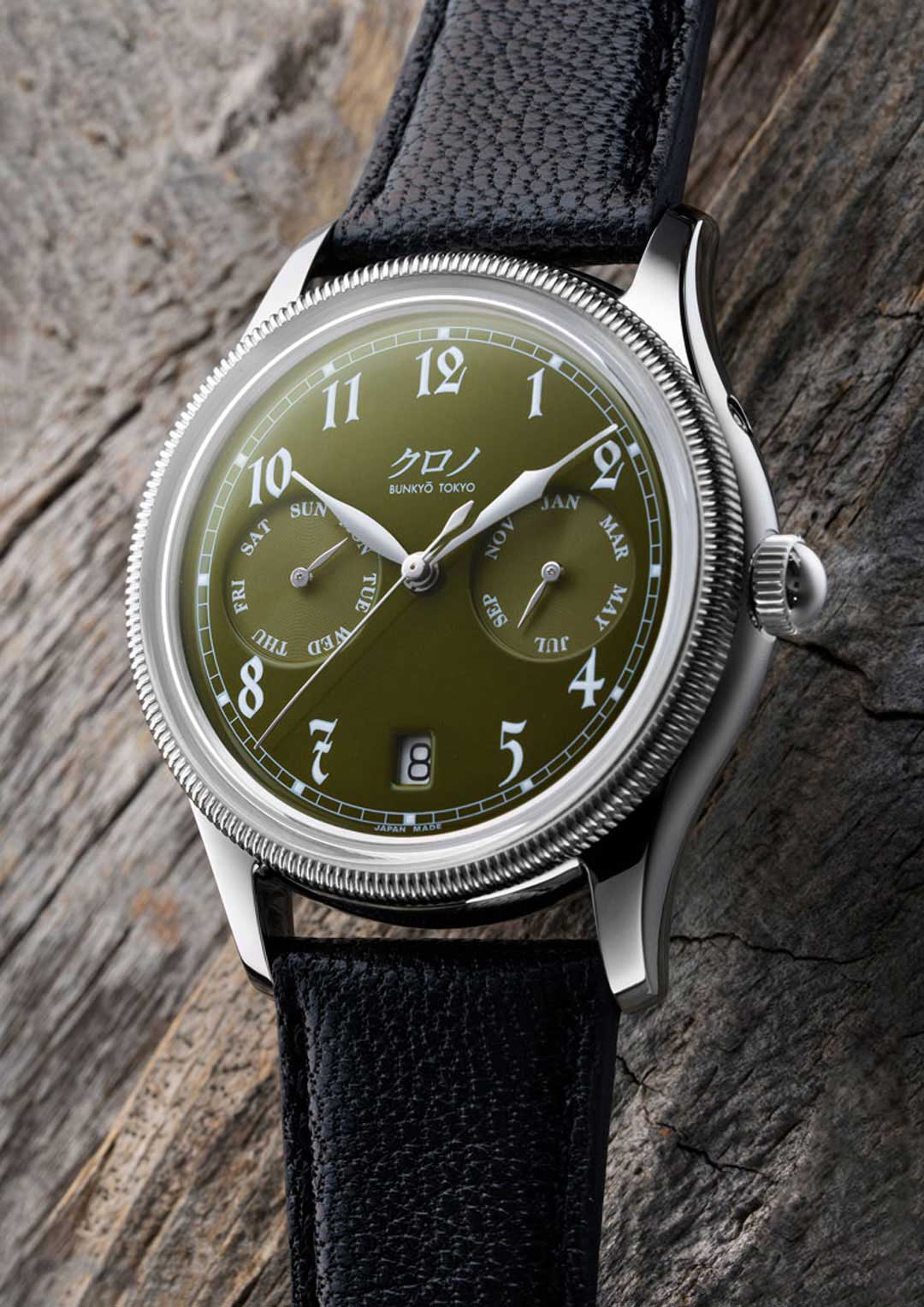 CALENDRIER 'TYPE I'
The Kurono Calendrier 'Type I' is a complete calendar watch with a classic coin-edged bezel that ushers in a new design language by master watchmaker Hajime Asaoka - designed for the gentleman adventurer but still firmly rooted in his penchant for the vintage romanticism of the art-deco era.
Its design intent is for it to be worn regularly and to develop character over time - a design that allows for and embraces scratches. "Blemishes accumulated are unique to the wearer and is a written record of his journey and adventures through life. Owners should spend their time in meaningful pursuits rather than worry about scratches. Hence the design embraces such blemishes, adds character, and looks better over time," said Hajime Asaoka.
The design of the Calendrier 'Type I' has been calculated to enhance the three-dimensionality of the iconic Kurono hands and the symmetry of the dial. It aims to evoke a sense of refined adventure - with its new high-polish coin edge bezel and khaki dial interplaying with an audacious blacklettered vintage typeface to evoke a bold regimental atmosphere for the wrist. Guilloche sub-dials with high-polish hands hint at the mechanical complexity of its triple calendar complication, with the mood accentuated by railway-track minute markers at the periphery.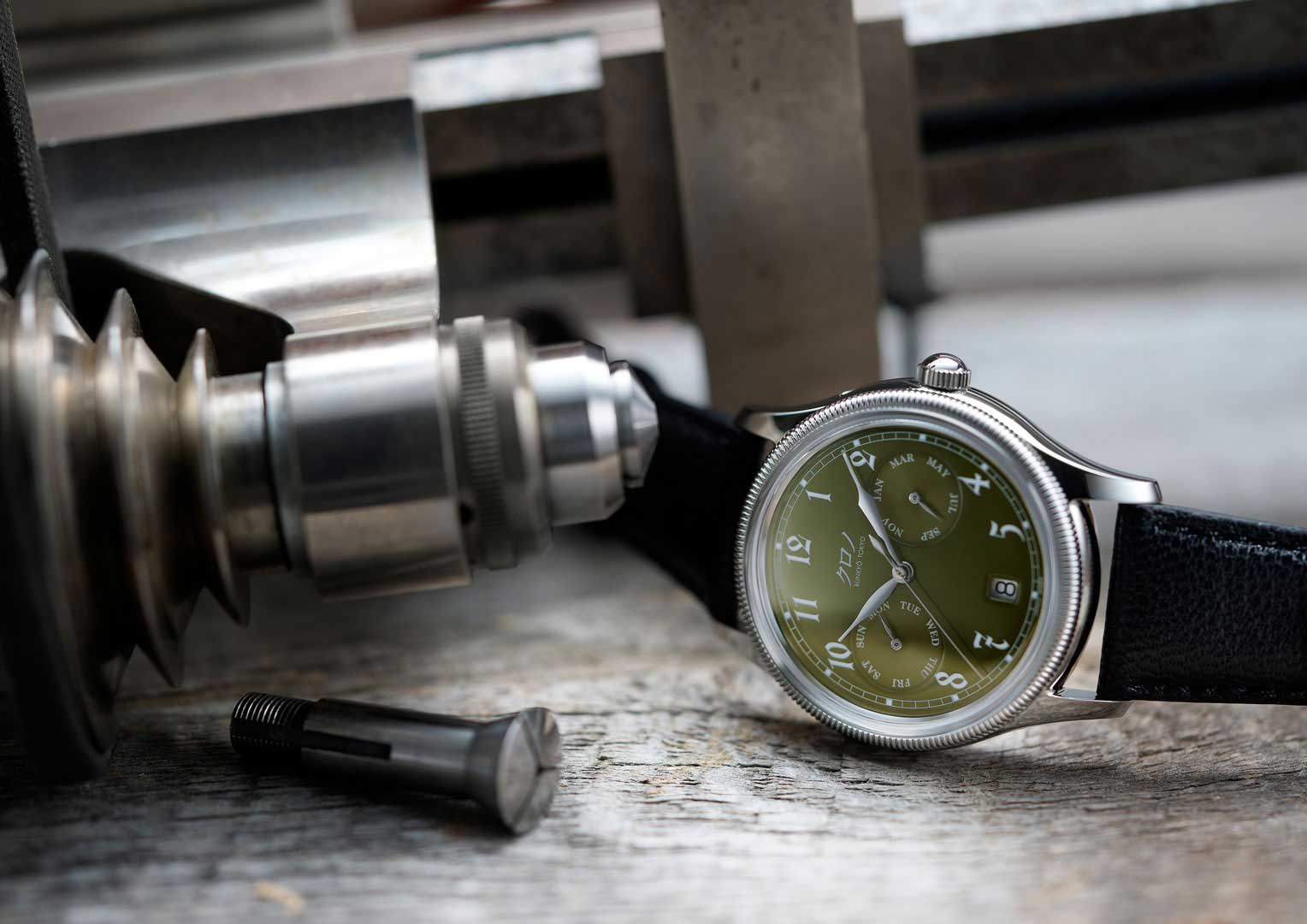 CALENDRIER 'TYPE I'
Dial
The Kurono Calendrier 'Type I's dial enhances the "beauty of symmetry" that is a component of the Art Deco style. The cylinder dial is designed to curve from the center to the outer edge of the dial, and two dial layers are pressed together to create a three-dimensional effect. The numerals themselves are also purposefully printed in a raised format.

Hands
The combination of high-polish leaf hands for the hour and minute hands with modern hands is a typical Kurono design. The hour and minute hands are curved at both ends, and are paired with a counterweighted second hand that is very thin. The tips of the second and minute hands are bent by hand.

Case
The case is made of forged 316L stainless steel. It is newly designed to fit the coin-edged bezel, but keeps the iconic Kurono case DNA. The case sides are mirror-finished. The mirror finish is free from distortion, so much so that exterior reflections are beautifully portrayed. Also, when viewed from the side, the mirror finish and the coin-edge bezel can be seen to stand out in their respective finishes. Water resistance has been increased to 5 ATM. The case-back is finished with a circular lettering design, as seen on vintage watches.

Sapphire crystal
The scratch-resistant box sapphire crystal is raised like the acrylic glass of a vintage watch. Designed for the Calendrier 'Type I', its shape is 0.15 mm higher than that of an ordinary sapphire box crystal.

Movement made in Japan
Miyota 9122 - a Japan-made movement - is used. It is a rare movement with "center seconds and full calendar," which is uncommon in current Swiss-made mass-produced ebauches. Leveraging a Japanese movement allows for the Kurono Calendrier 'Type I' to be fully Japan made.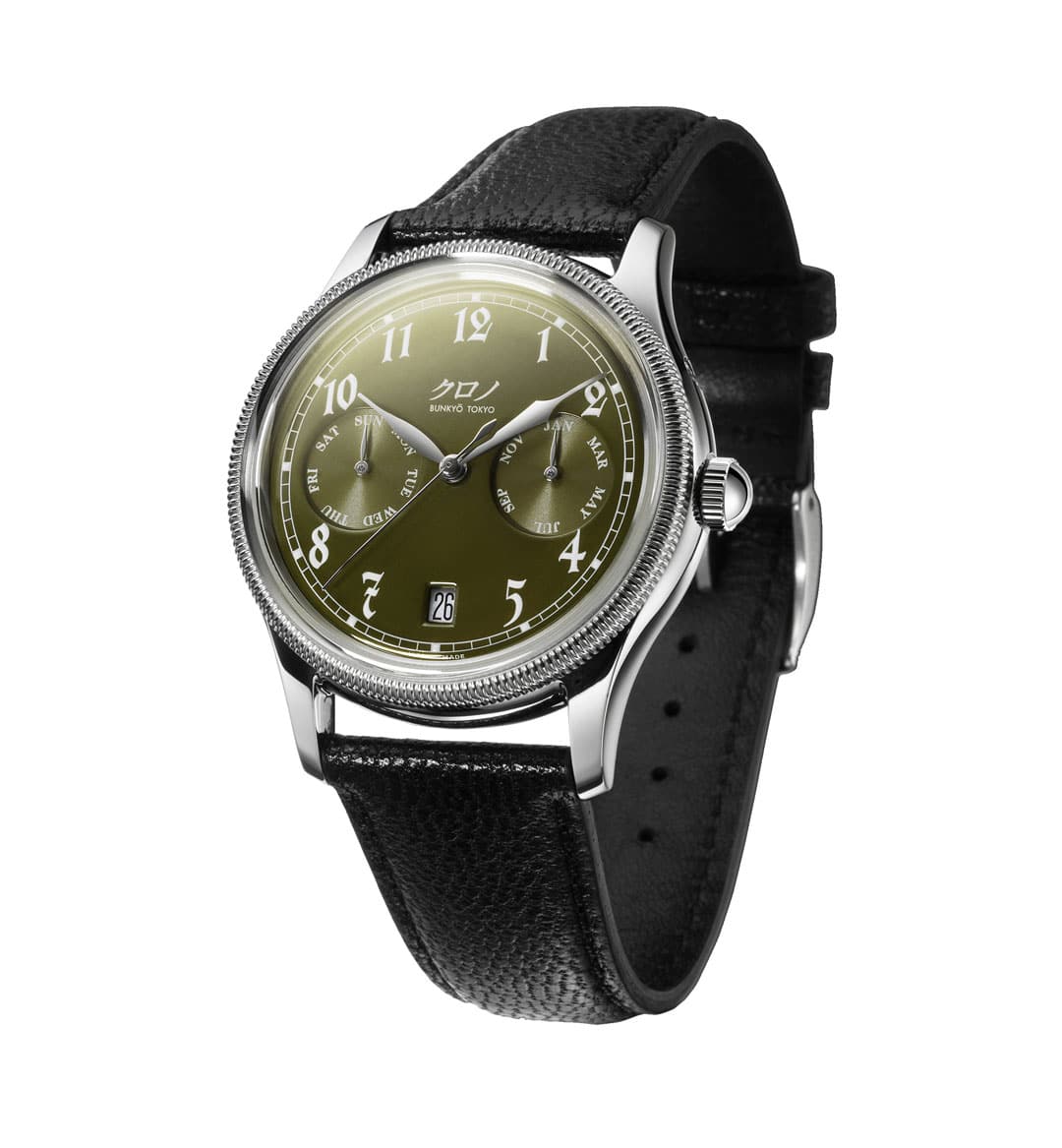 MOVEMENT CARE
The Calendrier 'Type I' features a triple-calendar complication that shows the day, date and month; apart from the time. Like many other triple calendar watches, we would advise some care when setting the watch:

*Refrain from changing the month when the windowed date display is showing the 31st. 
*Refrain from changing the day-of-the-week (Mon-Sun) and the windowed date display when the time is between 9:00 p.m. and 3:00 a.m.
Specifications & Availability
Japan-made Miyota 9122

316L high-polished 38mm stainless steel case

Solid caseback

Case diameter: 38mm

Thickness: 10mm (11.5mm incl sapphire)

Power reserve: 40 hours

Complications: Hours, minutes, seconds, full calendar (month, day, date)

Jewels: 26 rubies

Glass: Unique box sapphire glass

Frequency: 28,800bph

Water resistance: 5 ATM

Strap widths: 20mm

Made in Japan

The Kurono Calendrier 'Type I' is a limited edition
Deliveries start from mid-September 2022 through end October 2022.Japan market: 6.00PM JST, Thursday 11 August

A limited number will be reserved for local sale. Only Japanese residents with valid residential addresses are eligible to purchase

Global market: 11.00PM JST, Thursday 11 August

(BST) London: Thursday, 11 August, 3:00pm

(EDT) New York: Thursday, 11 August, 10:00am

(GST) Dubai: Thursday, 11 August, 6:00pm

(AEST) Sydney: Friday, 12 August, 12:00am

[Alert for Taiwan orders: While we do ship to Taiwan, we are expecting possible significant delays in logistics trade routes into Taiwan over the next few months. Please only proceed with your order to Taiwan if you accept the possibility of such delays in your order reaching you.]

SOLD OUT
Conditions of Sale
Any transactions with Kurono means that you unequivocally accept the following terms and conditions of purchase:

Kurono has a strict No Refund policy.

Please ensure that you are certain in your purchasing decision before commencing to pay for your order. Finalizing and paying for your order will mean that you unequivocally understand and accept that you forfeit the right to cancellations and refunds for any reason whatsoever, even in the pre-order stage. As this is a limited edition item that is in high demand, this policy allows us to prevent hoarding/fraud and ensures that the product reaches the wrists of real buyers and fans. Any cancellations will be subject to a restocking fee of 19.23% of the watch's MSRP to cater to card transaction and platform costs. The extra will be donated to our selected children's charity of the season.

Shipping dates

Before making a purchase, please refer to the product pages on the shipping advisory. From time to time, there may be countries or jurisdictions where we may be allowed to ship to.

Precautions against resale accounts

Accounts that are suspected of being linked to reseller profiles will be banned immediately. We will take measures to prevent future purchases by such accounts.

Multiple purchases

To combat the existing reseller problem, we have a stringent one watch per customer policy. In the case of duplicate purchases, our system will detect this and both orders will be canceled.

Payment provider/Credit card errors

If a credit card error occurs at checkout, it is primarily due to either the security policies or restrictions put in place by your card issuer, and not our payments transactions provider. Please ensure that your card has overseas purchases enabled before you participate in this order. Please note that our payments provider will put in place strict verification processes such as OTP codes and matching addresses to your card.

Alternatively, you might want to consider alternative payment options such as Apple Pay or Android Pay. Please note that for Apple Pay, a Safari browser is necessary for it to work.

Loss of package/Custom delays

We will only use DHL International Economy/ FedEx International Priority from the point of origin and international airmail for all international orders. Please refer to DHL/FedEx's terms of service in your respective country should you require more information on shipping terms, conditions, and requirements.

You understand that any loss of packages or customs delays shall not be within the purview of Kurono, and any claims and correspondence shall be with DHL/FedEx, or with your country's customs authority. While Kurono shall provide assistance with regards to paperwork on a best effort basis, you understand that Kurono shall not be held liable for any matter with this regard.

Additional Measures to stem Speculation and Unauthorized Resale

Warranty for Limited Edition Items

- Warranty or service claims within the first six months of receiving your watch by anyone other than the original buyer on record will be rejected.

- Warranty for any watches discovered on the resale market within the first six months will be voided.

Shipping Policy

We will only use DHL International Economy/ FedEx International Priority from the point of origin and international airmail for all international orders. Please refer to DHL/FedEx's terms of service in your respective country should you require more information on shipping terms, conditions, and requirements.

VAT/GST/Excise Taxes

Please note that you have not been charged domestic VAT or related taxes at the point of order, DHL, FedEx, or the local delivery courier that they use may require you to pay the necessary VAT/GST/excise taxes applicable to your country of receipt before releasing the shipment. These taxes are unique to your country of domicile, and we shall not be held responsible for the payment of such taxes, except for local domestic taxes.

Exchanges & Repairs (Warranty)

All items are thoroughly inspected by watchmakers before they leave the factory for shipping. In the unlikely event that your item arrives damaged during transit, you may be eligible for a one-to-one exchange. Eligibility for exchange shall be on a case-by-case basis and only after your return is received and inspected. We will notify you of the approval or rejection of your exchange.

If you are approved, a new watch (if stock is available) shall be shipped to you without charge. If stock is unavailable, we will offer either a replacement of the affected part(s), a repair, or a refund.

We only repair or replace items if they are defective or damaged in transit. You will need to send pictures of the exterior of the shipping package in its entirety to help in your claim. You will be requested to take a picture of your warranty card to ensure the information tallies with your original order details as well. From there, we will make the necessary arrangements.

Please note that repairs may take up to 2-3 months depending on the condition of the watch. If you are uncomfortable with the waiting time, do consider before sending your watch back to the repair center.
Purchasing Questions
Yes, a valid account is necessary before purchase. We recommend that customers register for an account prior to any pre-order, so that the checkout process will not be delayed.
All warranty and service claims within the first six months of receiving your watch must be made through the original purchaser, otherwise it will be denied.
We accept the following payment methods: VISA, Mastercard, American Express (AMEX), Apple Pay & Android/Google Pay only. 
Payments for all Kurono Tokyo products will be charged only in JPY (¥), unless stated otherwise. 
No, payment should strictly be made by JPY (¥) only. There will be no other currency options available. 
We apologize, as our payment processing partner will only process one credit card per cart checkout.
A tracking number will be sent to you via e-mail once the package has been sent out. If you have more enquiries regarding this, do contact the Kurono team through e-mail at info@kuronotokyo.com
Due to the very short lead times between allocation and delivery, changes of addresses will not be allowed. Successful customers are advised to enter an accurate shipping address at the invoice finalization stage. Any changes after the fact may result in cancellation of your order and reallocation of your watch to another customer.