THE NEW HIROSHIGE STRAP (若竹色: WAKATAKE-IRO)
Introducing the new Hiroshige Wakatake-Iro Strap from Kurono Tokyo – a new hand-cut and hand-made watch strap in bamboo green featuring our unique Hiroshige script engraved on hand-patinaed leather. Made of calf leather selected for suppleness, the Hiroshige Strap – like all our other products – promises to redefine established price-performance benchmarks by delivering all the elements of a haute horlogerie strap at a more than decent price.
This Hiroshige strap is part of our line of artisan-made collector-grade accessories that introduce time-honored artistic traditions, historical craftwork and materials at affordable price points. This new line of products is a reminder of our humble beginnings, and aspires to incorporate the very best of Edo-period art and reinvent them into a fresh, avant-garde aesthetic.
Central to this effort is an element of authenticity, and this authenticity is anchored by our acquisition of an original artwork by legendary Ukiyo-e master Utagawa Hiroshige (1797-1858) - an independent, self-taught artist whose art popularized Japonisme - and his exotic, decorative works influenced old masters such as Van Gogh, Cézanne, Whistler and Monet.
クロノより手作業のパティナ加工に、ユニークな広重の手書きの詩が刻印された
若竹色の新ハンドカット&手作りの広重ストラップをご紹介します。厳選されたカーフレザーを使用したこの広重ストラップは、他の商品と同様に、高級時計のストラップとしての要素をすべて備えながら、価格を抑えた、これまでにないコストパフォーマンスの高いストラップです。
SIGNIFICANCE OF WAKATAKE-IRO | 若竹色の意義
The bamboo green shade of the wakatake-iro strap was produced to parallel the profound cultural significance bamboo possesses in Japan. Bamboo, for generations, have been enshrined in traditional Japanese culture and are regarded as highly auspicious. They denote prosperity, good fortune, and harmony in one's life. They embody the strength to stay upright in the face of adversity, yet flexibly adaptable to sway with harsh winds - the quintessence of balance between grace, strength and versatility.
Wakatake, in specific, represents a blossoming young bamboo - much like the Hiroshige Strap which is first constructed in a yellow dye as its base before hand-applying an array of different patina shades to ultimately establish a darker green tone equivalent to that of a fully grown bamboo.
An ancient Japanese proverb representing the importance of resilience and humility; It is a reminder to keep an open heart free of arrogance, to find inner peace within one's self and that the key to navigating the journey of life is to go with the flow:「 The bamboo that bends is stronger than the oak that resists. 」

The ingenuity of bamboo lies in its pliability and resilience, its ability to bend without breaking as it is the one who learns to sway with the breeze who will truly weather the storm and survive.
The anticatura patina technique implemented on the wakatane-iro strap is akin to that of growing bamboo, where the unique patina created reveals an aged effect similar to how the shades of bamboo transition from yellow to dark green as it grows and ages with time. The production technique for bamboo green includes an additional step involving the application of secondary layers following the primary dyes incorporated in karashi-iro. These additional steps taken were substantially extensive but fundamentally necessary in building up the desired patina and greater depth of color with hints of its yellow base.
若竹色ストラップに施されたアンティカチュラ・パティナの技法は、竹の成長に似ており、独特のパティナは、竹が成長して時を経るにつれ、黄色から深緑へと変化するような熟成効果をもたらします。バンブーグリーンの製造方法は、からし色の染料の後に二次加工を施すという工程があります。これは非常に大掛かりなものでありますが、黄味を帯びた深みのある色を作り上げるためには必要な不可欠な工程です。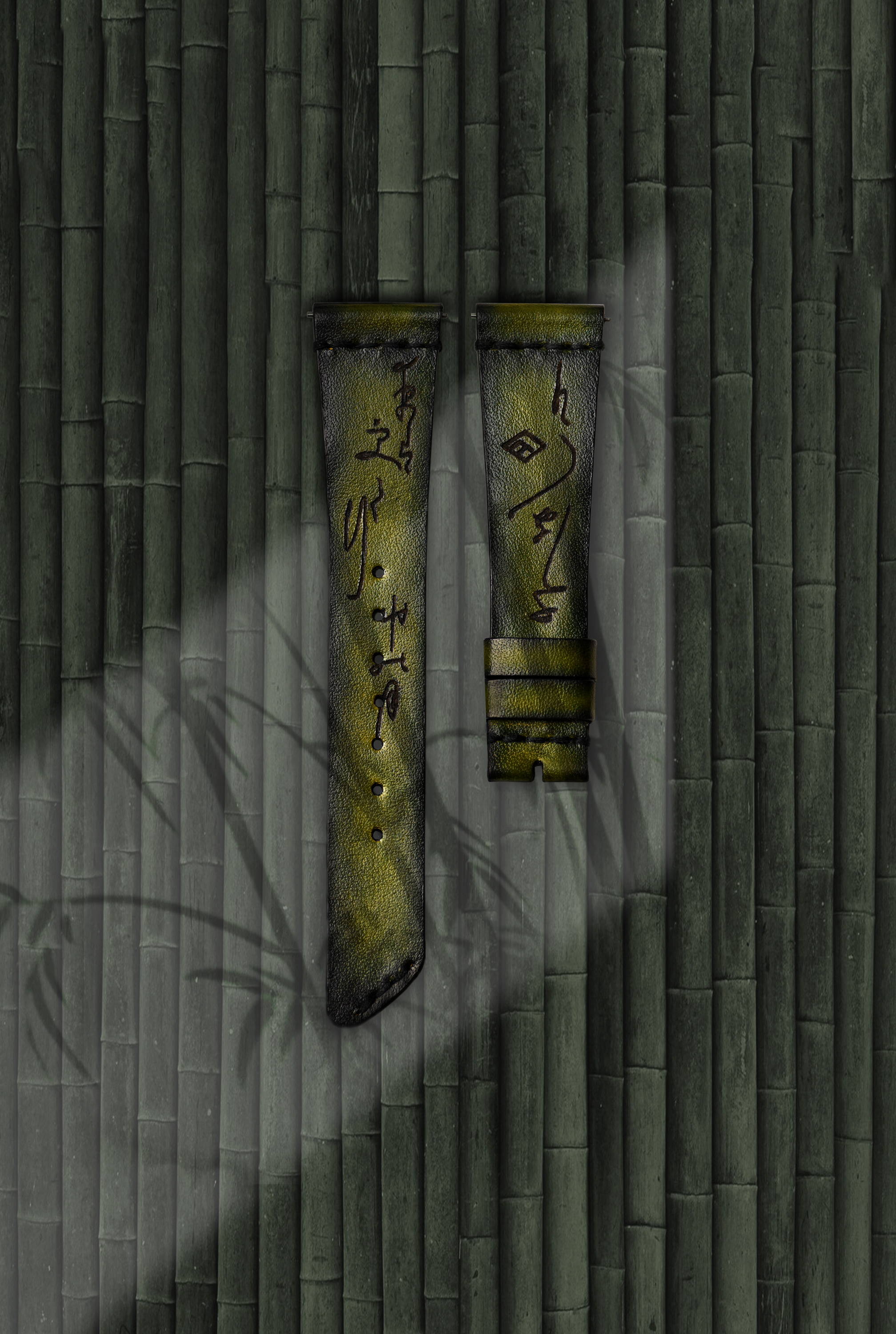 HIROSHIGE SCRIPT & HAND PATINA
All Hiroshige straps are engraved with legendary ukiyo-e artist Utagawa Hiroshige's original handwritten poem from an original artwork ca. 1840. The poem is loosely translated as:'The moon indulges into the night in various ways.'
As the Hiroshige script is derived from an original artwork owned by Kurono, it is unique to Kurono and cannot be replicated elsewhere. The strap's olive green underside is lasered with the official Kurono Tokyo logo.
Each leather strap is further hand-dyed using the anticatura patina technique, bringing an additional level of character and refinement to Hiroshige straps. The patina is applied to highlight the Hiroshige script against the strap's true color in the middle, before slightly darkening at the edges. Even the smallest elements like the strap guides are patinaed.
No two leather patina products will ever look the same, and they will over time take on their own character and personality by building on the original patina as it ages.
A lot of thought has gone into the design of the strap. We decided to minimize the use of stitches even though adding stitches would have been the same cost. This allowed us to have a final design that was very clean and minimalistic, bringing out the beauty of the engraved Hiroshige script and the hand-patinaed elements. While doing away with stitches may increase the chance for splitting over an extended period of time - we have mitigated such occurences with stronger edge binders, and the fact that the straps are meant for refined wear and not sports wear.

While a Kurono watch is undoubtedly the focal point on a wrist, we believe that the strap is a pivotal part in completing the look.
The Hiroshige strap follows the same attention to design detail and craftsmanship as a Kurono watch, and is designed to be a seamless extension of a Kurono through its minimalist yet sophisticated attitude.
すべての広重ストラップには、伝説の浮世絵師、歌川広重が1840年頃に制作した原画に書かれた直筆の詩が刻印されています。この詩は大まかに "さまざま に よは ふけて いく なか の つき" と訳されています。
各革製ストラップは、革染料を何層にも重ねて塗ることで完成するアンティカチュラ・パティナ技法を用い、特性のレベルを加えると共に、広重ストラップに洗練さをもたらします。パティナ技法は端をわずかに黒める前にストラップ中央の本色に対し、広重の手書きの詩をハイライトするために用いられました。ストラップガイドのような最小要素でさえ、パティナづけされております。
広重ストラップはクロノの腕時計同様、デザインの詳細と職人技に注意を払い、
最小限主義でありながら、洗練された心構えを通じたスムーズなクロノの延長線のデザインとされております。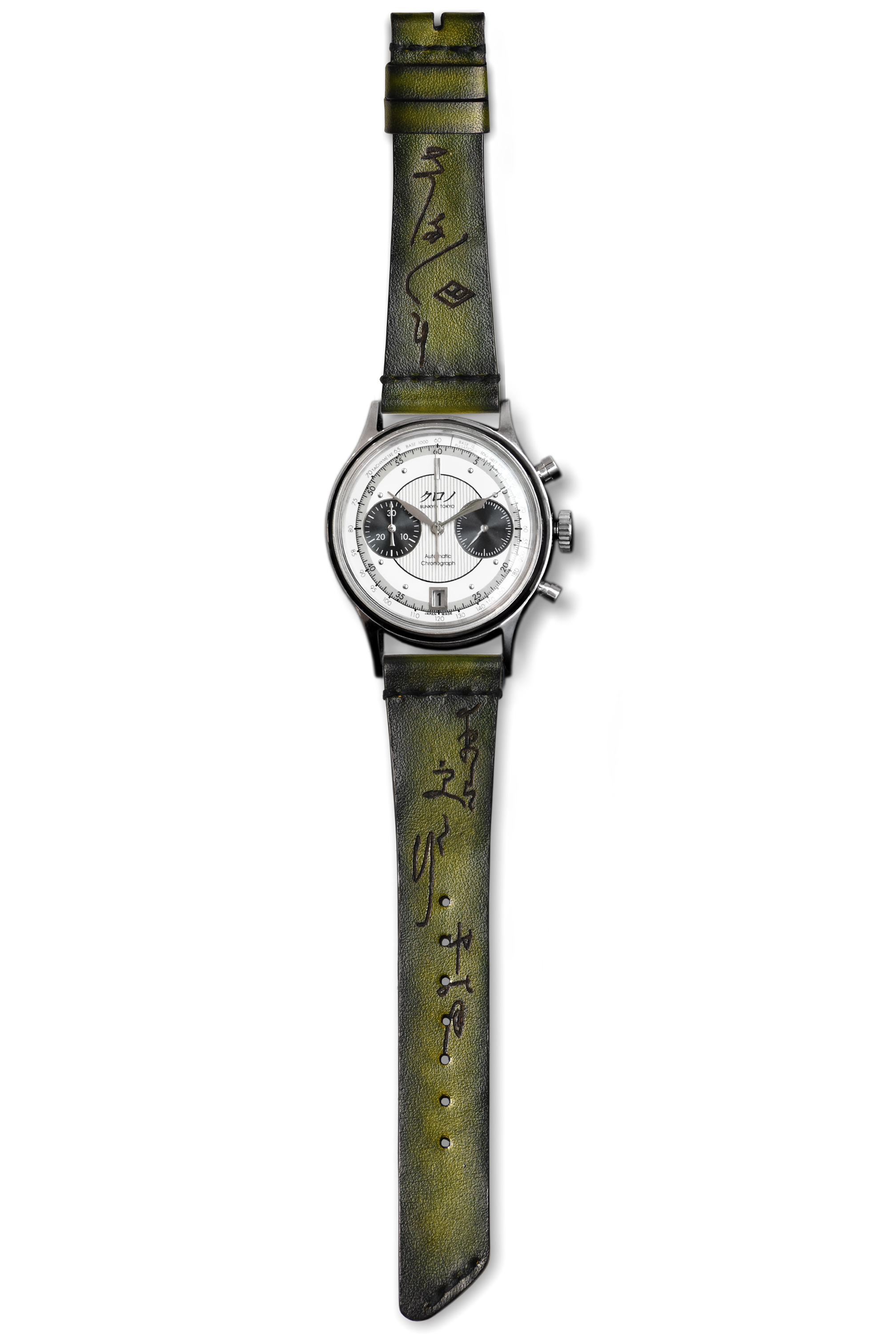 Although the straps are priced affordably, they are not machine made, nor do we use pattern cutters. Each strap is hand-cut, and from hand-penciled stencils. Patina is then rubbed onto the leather by hand. The only machine elements used are using laser engravers for the Hiroshige script and signing our logo.

In homage to Hajime-sensei's lineage from a family of samurai sword makers on his patrilineal side, the long end of the strap is hand-cut obliquely to mimic the edge of a wakizashi katana. This samurai blade shape symbolizes strength, power and the bond between a samurai and his blade, or in this case, the irreplaceable relationship formed between the collector and his watch.
ストラップは手ごろな価格ですが、機械製でなく、パターンカッターも使用しておりません。各ストラップはハンドカットで、ステンレス製ハンドペンシルから作られています。職人の手により、革にパティナが擦りこまれます。機械が使用されるのは、広重の手書きの詩とクロノのロゴをレーザー加工するのみです。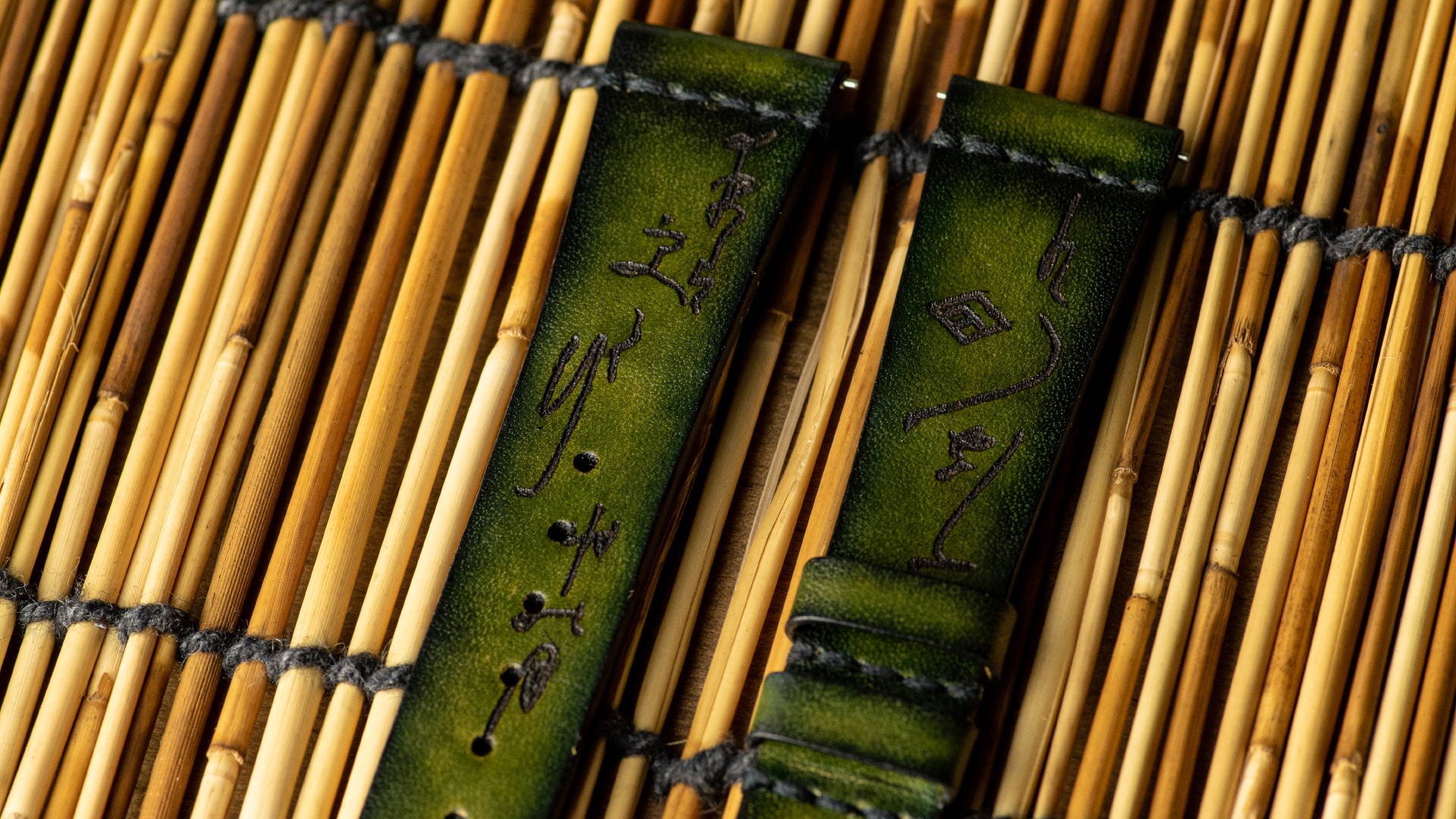 The Hiroshige Strap is made of selected vegetable-tanned soft calf leather – both for the topside leather upper, and for the leather lining on the underside.
We specifically had an aim to create as soft and supple as possible a watch strap, so as to make the strap feel as though it is an extension of your own skin. Additionally, the vegetable tanning process allows for a high degree of hypoallergenic properties.
All Hiroshige Straps also feature quick-release springbars to allow for quicker changing in and out of straps according to the collector's style-of-the-season, minimizing lug scratches and hassle.

Hiroshige straps are made of supple calf leather and like most artisanal straps, are not waterproof, nor are they meant to be used in active sport environments.
広重ストラップは、革上部のトップサイドと下部のアンダーサイドの両面を、厳選したやわらかいカーフの植物タンニンなめし革で作られております。すべての広重ストラップは、コレクターの季節感のスタイルに応じた素早いストラップチェンジや、ラグの傷つきと手間を最小限に抑えるための棒ばね急速解放も特徴となっております。ストラップは防水性でなく、アクティブなスポーツ環境でのご利用を意図したものでもありません。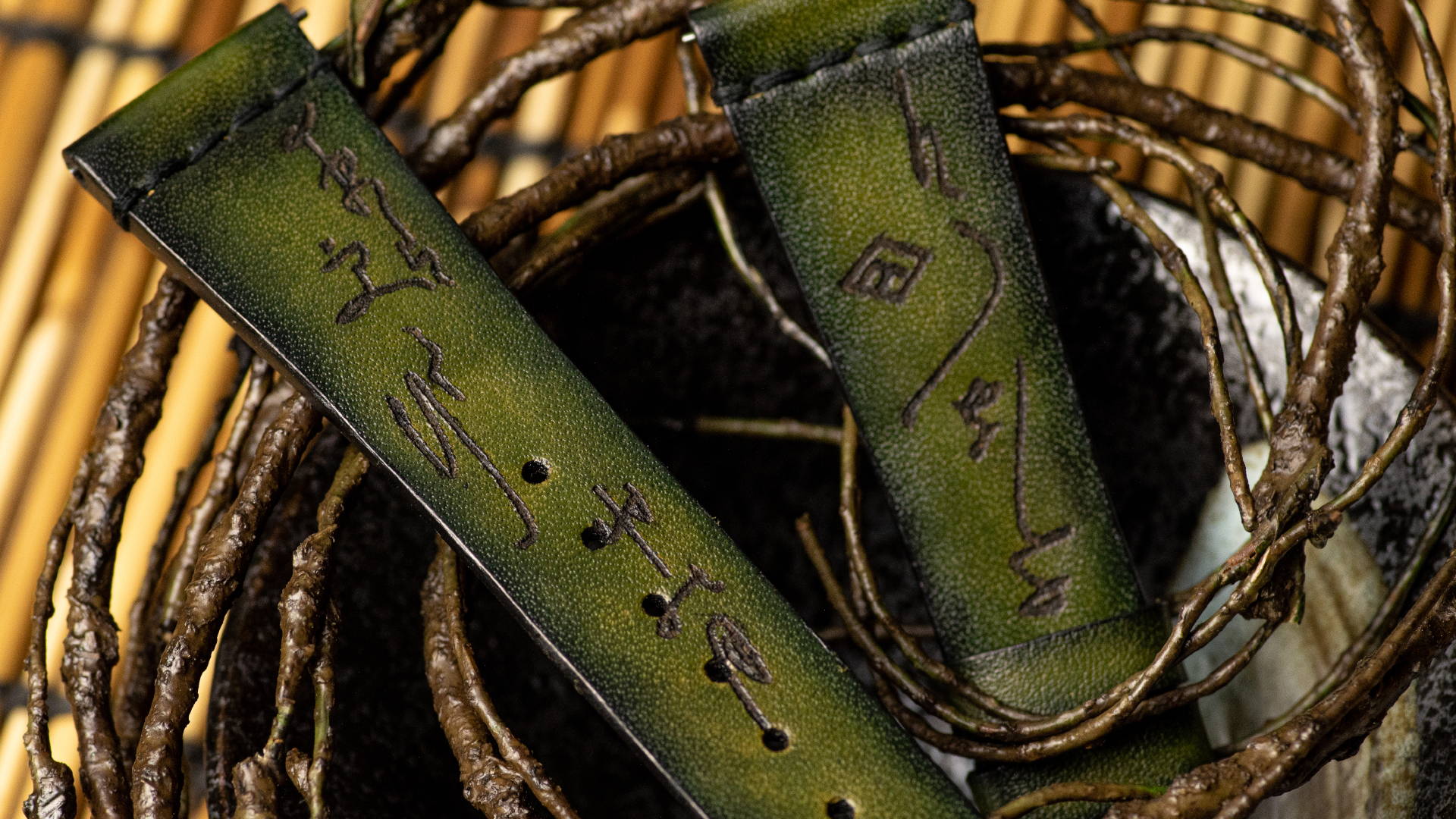 Lengths:

Standard: 115mm/75mm | Small: 105mm/70mm | Large: 130mmx80mm

Lug/Buckle widths: 20mm / 16mm

Upperside color: Wakatake-iro (Bamboo)

Underside color: Olive green

Hand-dyed Patina

Engraved Hiroshige script (original poem)

Lasered Kurono Tokyo logo on underside

Quick-release springbars at lugs end

Hand-made & Hand-cut

Limited production and shall not be repeated