Kurono is proud to present Kurono x Hiroshige – a new line of artisan-made collector-grade accessories that introduce time-honored artistic traditions, historical craftwork and materials at affordable price points. This new line of products is a reminder of our humble beginnings, and aspires to incorporate the very best of
Edo-period art and reinvent them into a fresh, avant-garde aesthetic.
Kurono x Hiroshige aims to disrupt all sensibilities of price-performance – to bring what was previously exclusive and loftily priced, to new benchmarks of accessibility that can be enjoyed by all. Central to this effort is an element of authenticity, and this authenticity is anchored by our recent acquisition of an original artwork by legendary Ukiyo-e master Utagawa Hiroshige (1797-1858).
Hiroshige was a wholly self-taught and fiercely independent artist who was known to be very poetic with his art, creating beautiful scenes of idealized nature whilst maintaining strong realism throughout his romantic work. His ukiyo-e crafts revealed a somewhat tangible yet intimate beauty - a human touch that no artists of his era managed to achieve. It popularized Japonisme - and his exotic, decorative works influenced old masters such as Van Gogh, Cézanne, Whistler and Monet.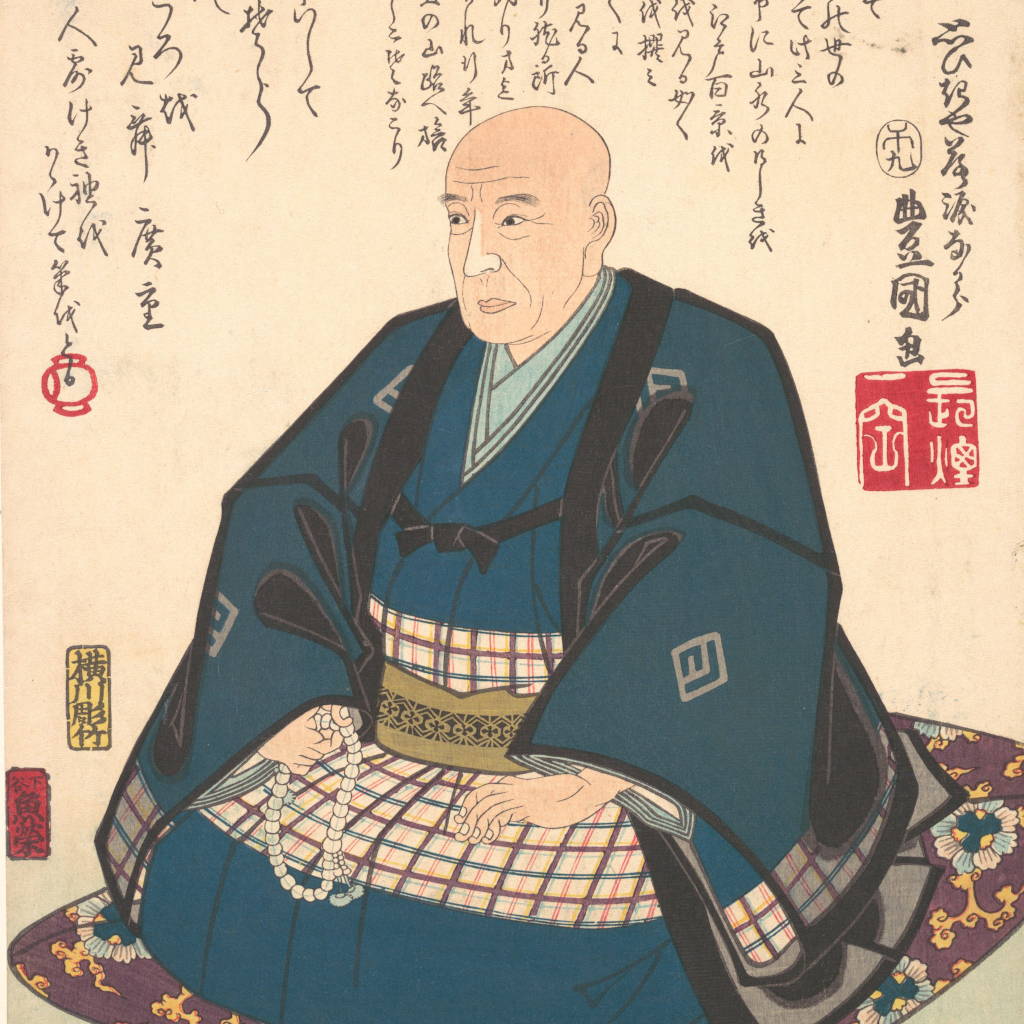 Ukiyo-e (浮世絵) - or "pictures of the floating world" - is an art form of woodblock prints established in the Edo period. Dating back to the 1600s and flourishing throughout the 1800s, renowned artists such as Hokusai and Hiroshige brought life into the landscape genre of Japanese art. Their artworks depicted serene travel scenes, snippets of flora and fauna and their aesthetic leaned more towards imagination and atmosphere rather than a strict observance of nature. Amidst a period of urbanization, these prints became immensely popular amongst the merchant class as it symbolized travel and leisure in Japan's growing economy.


Asai Ryōi, a novelist in the Edo period, gives an insight into the idea of the floating world in his Ukiyo monogatari: "Living only for the moment, turning our full attention to the pleasures of the moon, the snow, the cherry blossoms and the maple leaves; singing songs, drinking wine, diverting ourselves in just floating, floating; ... refusing to be disheartened, like a gourd floating along with the river current: this is what we call the floating world".


Not only is it the most predominant art form of its era, ukiyo-e is also the first form of Japanese artwork that foreigners encountered after centuries of seclusion. This opened up Japan to the outside world, and resulted in a trend of Japonisme which both inspired and influenced French impressionists such as Van Gogh, Cézanne, Whistler and Monet. Many of which have attempted at copying and building upon the crafts of the great masters, and evidence of Japanese influence are evident in their later works as they continue to reflect Japanese culture and tradition. One could say that ukiyo-e is what gave birth to the modern Japanese art scene.


As of 2016, the record price for a ukiyo-e piece, Fukaku Shinobu Koi, was sold at auction for ¥100million.
'JAPANESE BELLFLOWER' BY HIROSHIGE (ca. 1840)
Kurono acquired a piece of Ukiyo-e artwork – 'Japanese Bellflower' – a woodblock-on-paper original by Hiroshige that he drew circa 1840, which still remains in exceptional gallery condition even after 180 years. It depicts Japanese bellflowers in full bloom, drawn with a purposeful and almost vector-like manner that looks avant-garde even by today's modern design sensibilities. At the top is a handwritten poem by Hiroshige, loosely interpreted as 'The moon indulges into the night in various ways.' The artwork is signed by Hiroshige and carries his emblematic seal.


Kurono decided to take this more lavish step of basing our designs on an actual artwork acquisition due to authenticity and uniqueness. In the introduction of artwork onto products, most other Japanese companies might base designs on traditional royalty-free or small-fee designs. But we found that the same traditional Ukiyo-e designs were too ubiquitous – waves, cranes, flowers, fishes – designs that you would have already seen on our complimentary furoshiki cloths that Kurono watches are wrapped in.
By basing our products on an actual piece of historical art that Kurono owns, we extend to our customers a sense of history rooted in authenticity and uniqueness.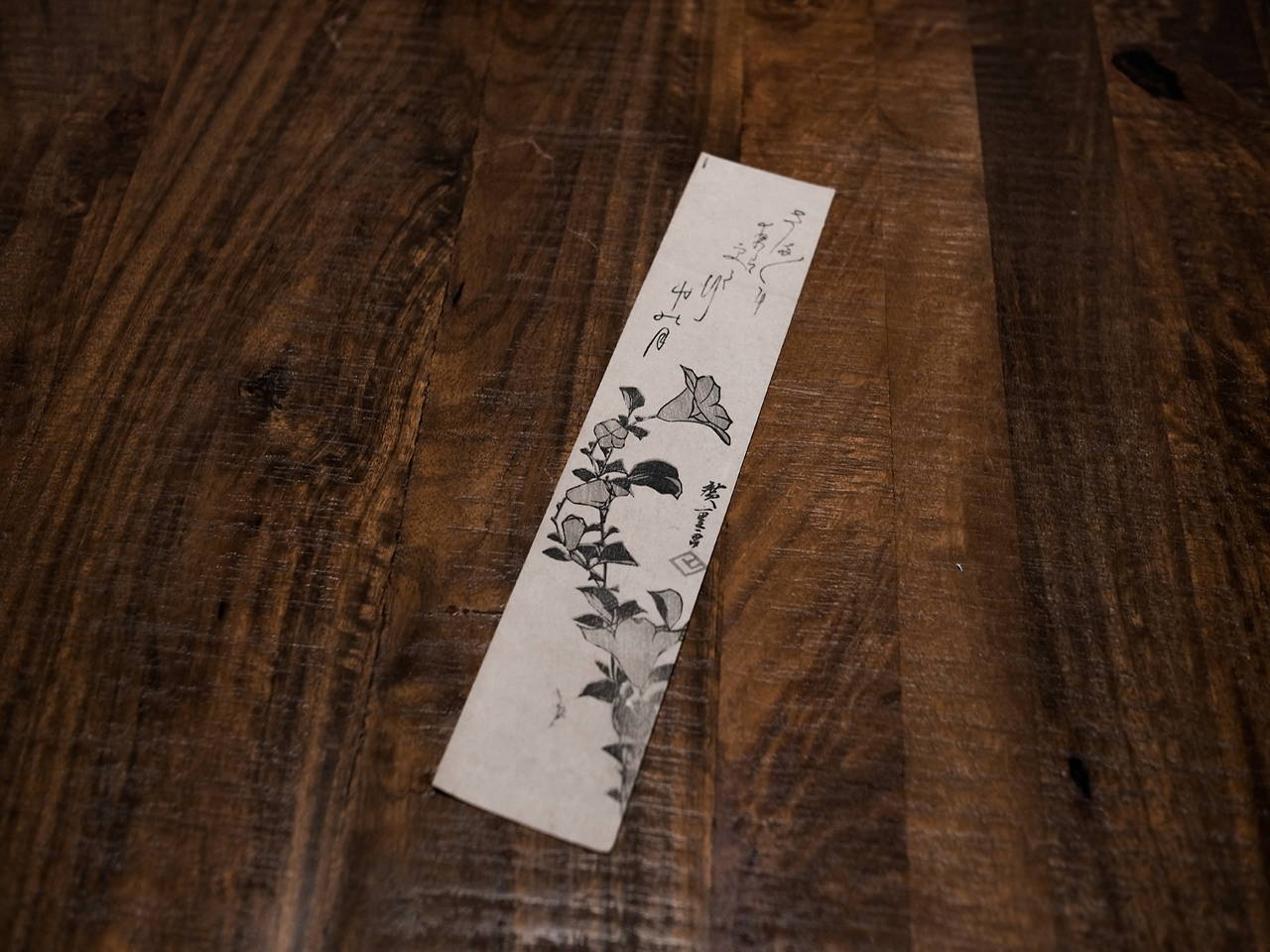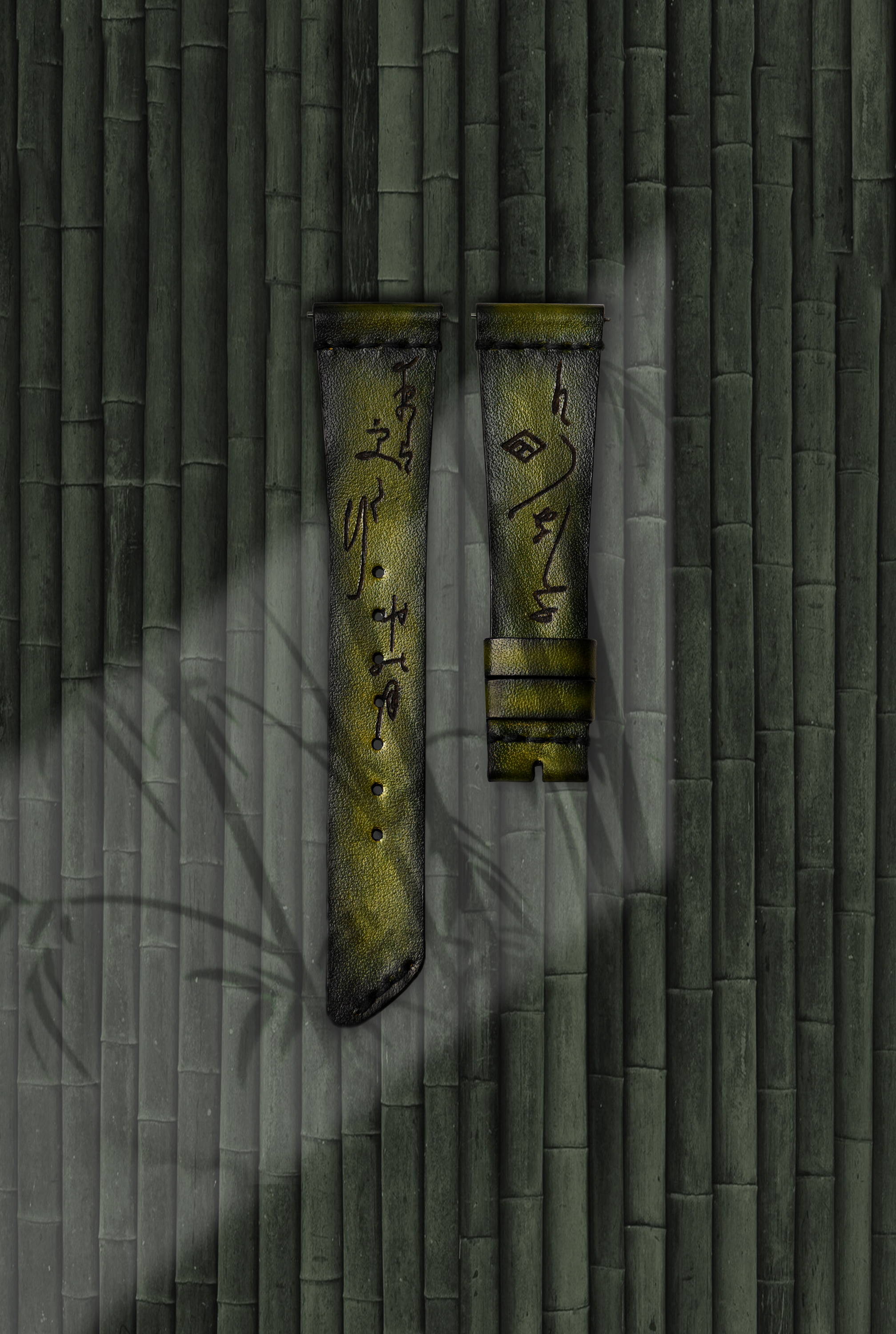 NEW THE NEW HIROSHIGE STRAP
若竹色: Wakatake-iro (Bamboo)
Introducing the new Hiroshige Strap from Kurono Tokyo – a new line of hand-cut and hand-made watch straps featuring our unique Hiroshige script engraved on hand-patinaed leather. Made of calf leather selected for suppleness, the Hiroshige Strap – like all our other products – promises to redefine established price-performance benchmarks by delivering all the elements of a haute horlogerie strap at a more than decent price.
Lengths: Standard: 115mm/75mm | Small: 105mm/70mm
Lug/Buckle widths: 20mm / 16mm
Upperside color: Wakatake-iro (Bamboo)
Underside color: Olive green
Hand-dyed Patina
Engraved Hiroshige script (original poem)
Lasered Kurono Tokyo logo on underside
Quick-release springbars at lugs end
Hand-made & Hand-cut
Limited production

Price: JPY 14,800 (US$135)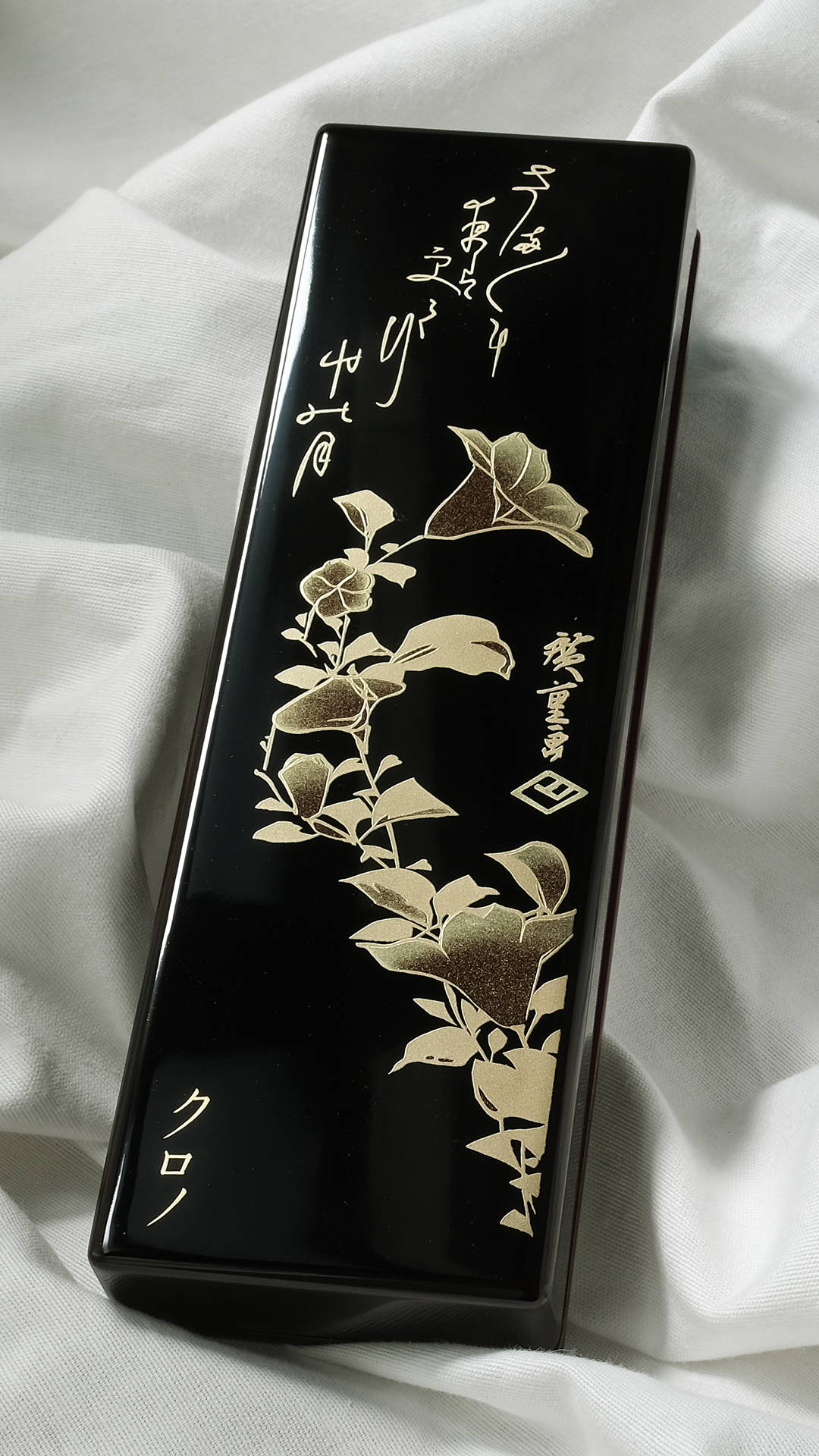 NEW 'TAMENURI MAKI-E' BOX
Introducing the first product of our new Kurono x Hiroshige line, the 'Tamenuri Maki-e' box - Bringing together what we think are the best in traditional Japanese art and handcraft into a single product:
- Urushi lacquer
- Kuro-tamenuri lacquering technique
- Maki-e of an original ukiyo-e artwork by Hiroshige
The box is first constructed in wood, made to kuro-tamenuri urushi standards and then left for limited curing. A further process of maki-e is then applied to the box with the ukiyo-e 'Japanese Bellflower' design and script by Hiroshige. An additional layer of urushi is applied, before being left for full curing.
Dimensions: 265mm x 80mm x 35mm
Single watch box
Wood exterior with felt interior
Two-part box (lid & base)
Red akane-urushi base, with suki-urushi layers applied over it
Signed by hand - Hiroshige's original 'Japanese Bellflower' artwork and Kurono logo - in gold on lid
Handmade in Kanazawa
Limited to 250 pieces
Price: JPY 33,800 (US$319)
Delivery: March/April 2021