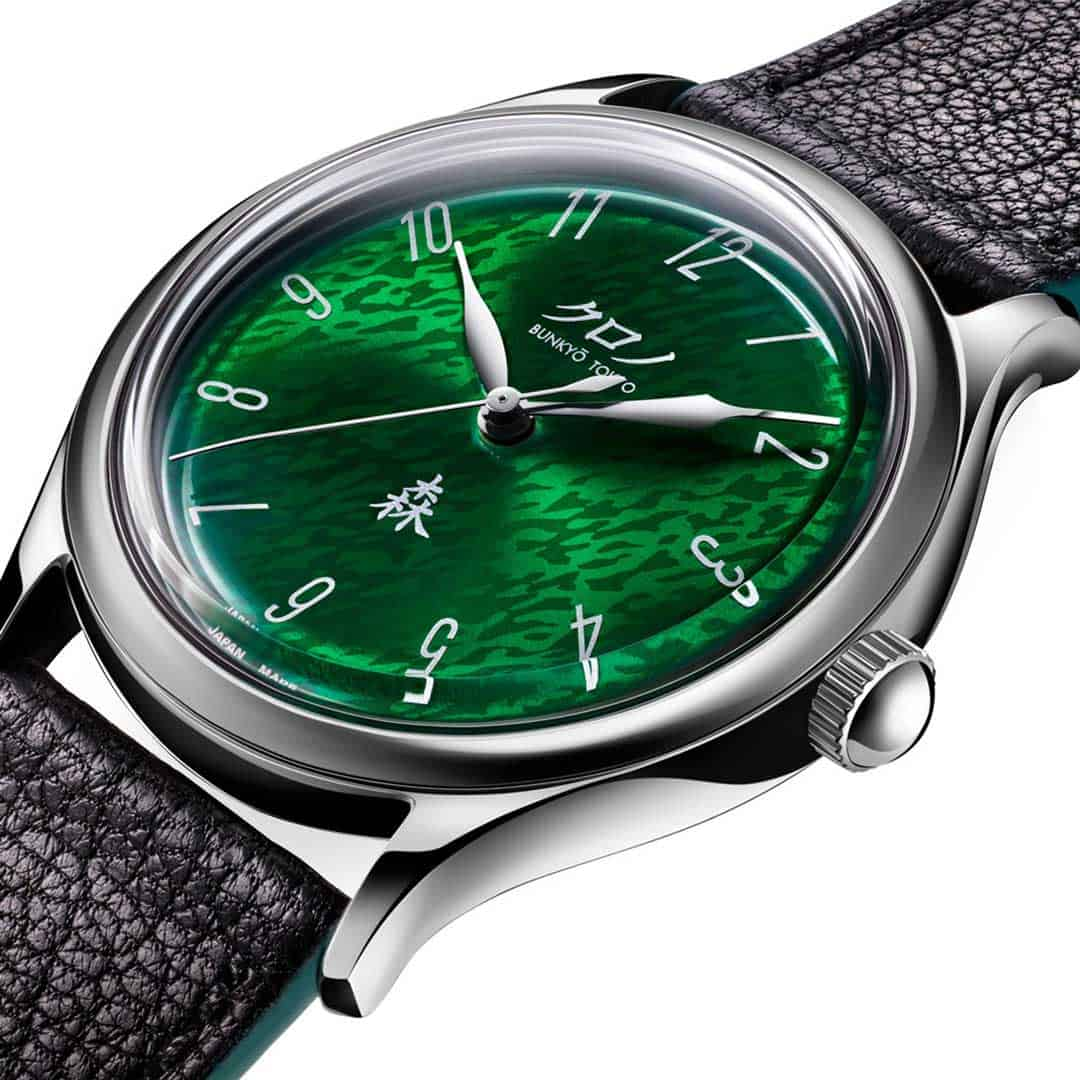 2022 ANNIVERSARY
GRAND MORI '森'
Kurono is delighted to present the 2022 anniversary edition timepiece, Grand Mori '森', featuring traditional Japanese lacquer 'urushi' craftsmanship.
The 2022 Anniversary Grand Mori '森' is a work by sensei to reflect the concept "nature is the teacher" - the philosophy that Hajime Asaoka pays special attention to and tries to implement in his designs. Inspired by the canopies of the forest, this pattern on the dial mimics the unveiling of the sun rays seeping through the layers of the trees. The metallic green shade of the dial not only embodies the foliage but also enhances the intricate details of the pattern under different angles and lighting, making it alluring each time one looks at it. The complexity allows for various interpretations and brings out harmony simultaneously, just like the concept of the canopies in nature.
The 2022 Anniversary Grand Mori features handmade urushi over a gold-gilded (color) dial by a master craftsman, and will be available from Friday 27th May at 11:00PM Japanese Standard Time. All orders taken within a twelve minute window will be fulfilled. Deliveries start from June 2022. 
(NB: Devices with OLED displays - such as smartphones - may reproduce the color tones of the dial more accurately)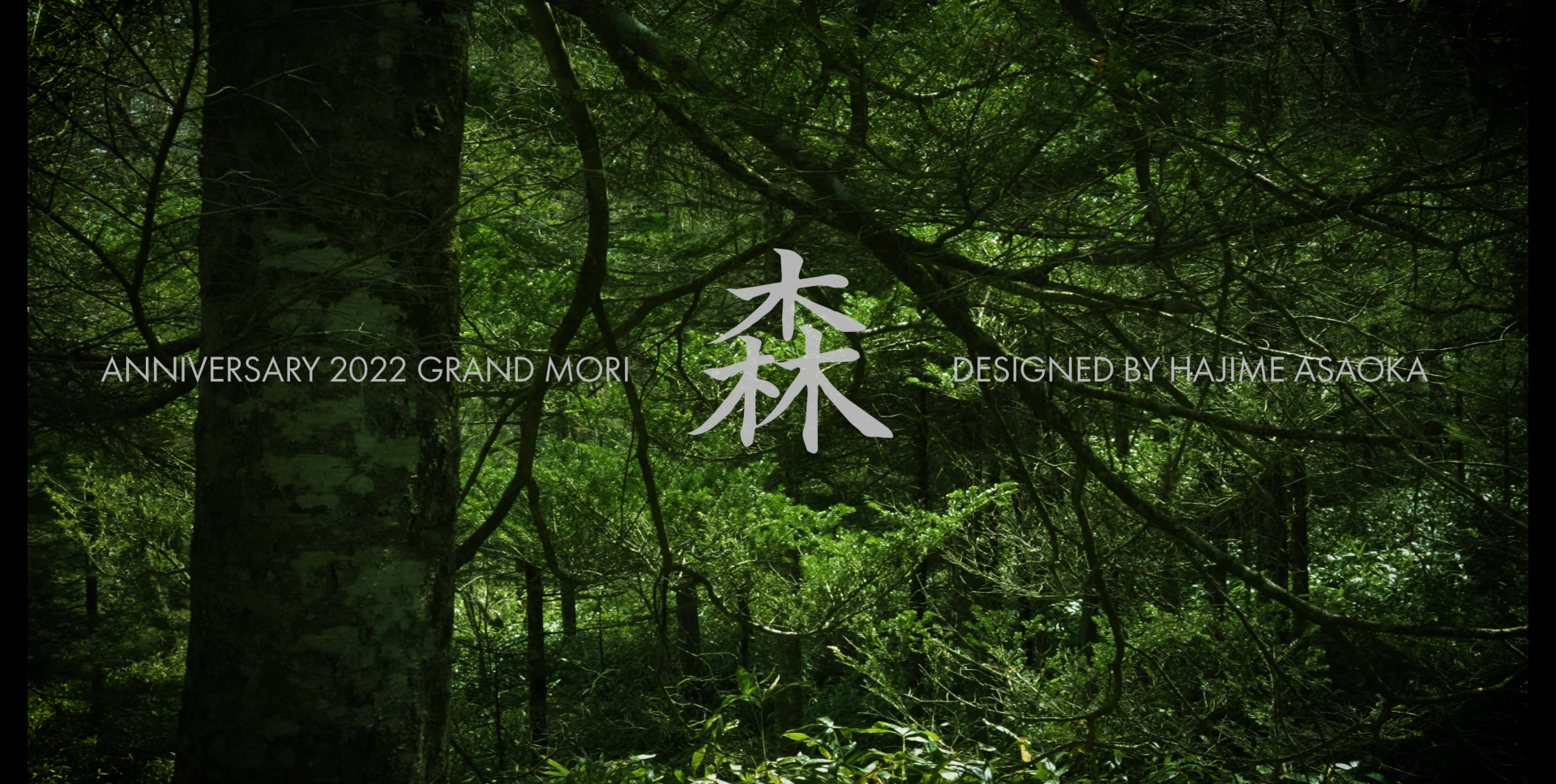 URUSHI MASTER CRAFTSMANSHIP
Entirely shot by Hajime Asaoka featuring music from KOHKI, this video reflects the mood and sentimentality sensei puts into the 2022 Anniversary Grand Mori '森', as he walks through the different steps of the handmade urushi dial process through his lens. The urushi on the Grand Mori '森' is unlike others, as it requires true master-level craftsmanship - a national certification of skillsets that can only be passed down from master to apprentice through the ages. Today, only a handful of master-level urushi craftsmen still practice the art in Japan. From the unique self-cut tools and painstaking materials preparation, to the attention to detail of urushi application on the dial and final polish preparation by palm and fingers -  each handmade artisanal urushi dial takes months to produce. It is our hope that the  the 2022 Anniversary Grand Mori '森' will be treasured by collectors, and for generations to come.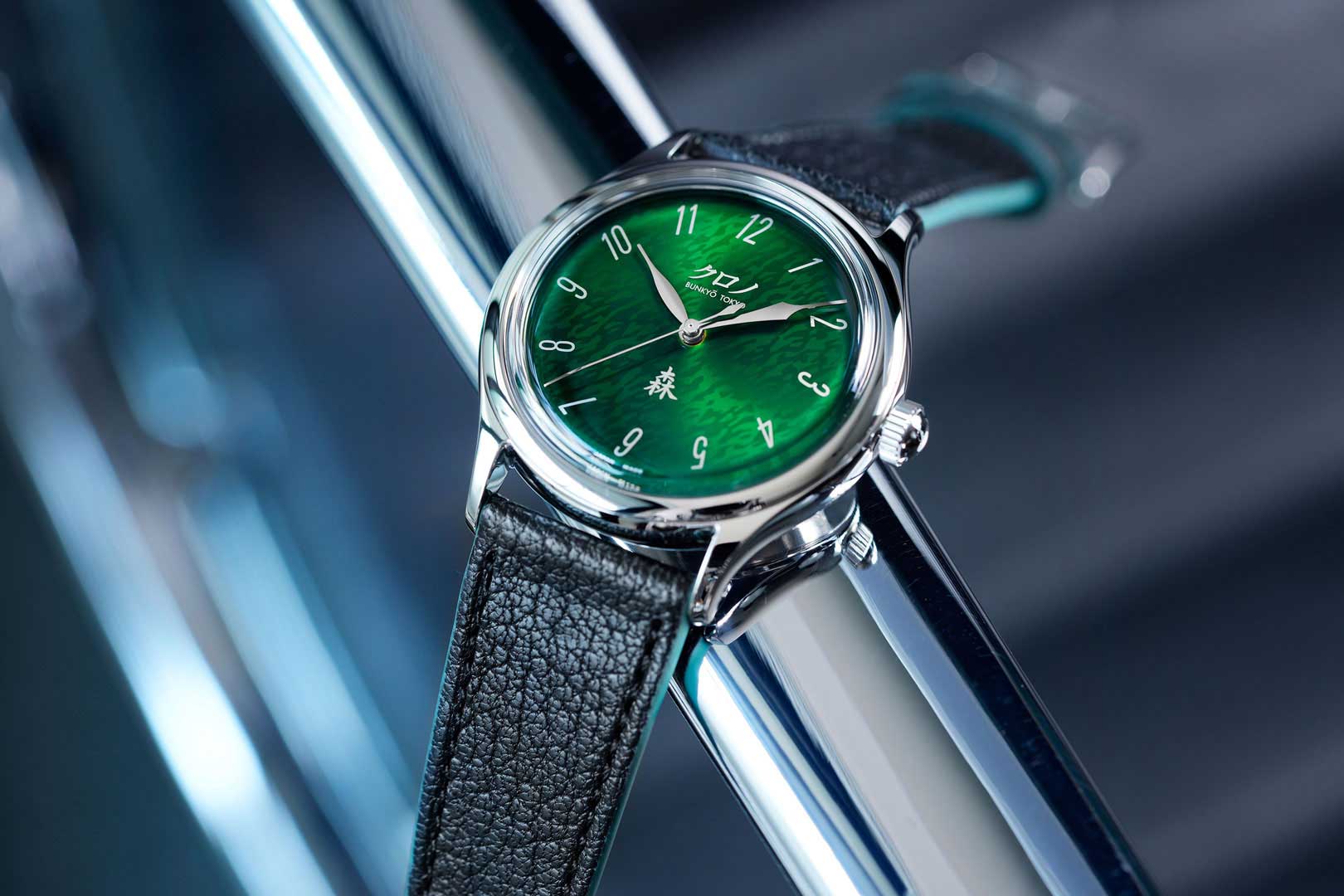 traditional Kyoto-style
handmade Japanese lacquer technique
The 2022 Anniversary Grand Mori '森' features the traditional Kyoto-style handmade Japanese lacquer technique. Each dial is a masterpiece that is individually handcrafted by the female craftsmen in Kyoto who inherited the technique. Sharing the same sentiment as creators who aim to create the best products without compromise from Japan provided an opportunity for both the female craftsmen to work alongside with Hajime-sensei to achieve this goal. The 2022 Anniversary Grand Mori '森' - as an anniversary watch - aims to deliver incredible value by bringing high-level artisanship at wider levels of accessibility.
Urushi has been used as a lacquer in Japan for more than 10,000 years. The sap from the lacquer tree is refined and colored with pigments and other ingredients to produce a final work characterized by its beautiful finish and durability. Lacquer trees are 10 to 20 years old when their sap can finally be harvested. After the sap is collected, the trees die, and new trees are planted by hand. Only about 200 grams of sap can be extracted from each tree, making it extremely valuable and increasingly rare.
Each of the 2022 Anniversary Grand Mori '森' dial is crafted by hand by a master craftsperson.  The dial has a gold-gilded (color) before the application of urushi. This is on purpose as the yellow colour base together with the translucent green urushi will allow for warmer and richer tones so as to enhance the depth of the patterns. The subtly slanted arabic hour markers printed in silver on the urushi dial gives a light dynamism to the overall feel of the watch - and alludes to the rustling of leaves in gentle wind.
The subtle, distinctive trait of the urushi is that when exposed to natural and UV light, it will turn brighter over time due to moisture loss which usually takes years. For our Kurono customers, depending on the country you are situated in, the urushi dial will change color, creating a unique piece for each of you.
Kurono watches with the 'Grand' designation feature an elevated level of artisanal craftsmanship, and is differentiated not only by its innate beauty, but also with a signature caseback exclusive to 'Grand' watches. The focal point of this exclusive caseback is Hajime-sensei's signature embellished in bold kanji calligraphy alongside the impression of his one-of a-kind hanko stamp.The 2022 Anniversary Grand Mori '森' will be available for purchase on Friday 27th May at 11PM Japan Standard Time. Like in past anniversary watch launches, all orders completed within a 12 minute window will be honored and fulfilled. Production of the Grand Mori '森' began in September 2021 and as such the majority of orders should be fulfilled by July 2022.  
Specifications & Availability
Hand-applied urushi lacquer dial

Japan-made Premium Automatic movement 90S5 by Miyota

Unique box sapphire glass

Embellished caseback

28,800 vibrations / hour, power reserve 40 hours

Waterproof to 3 ATM

316L high-polished 37mm stainless steel case

Thickness: 7mm (excl sapphire glass)

Black calf leather band with green embellished sides

20mm at lugs, 16mm at buckle

Made in Japan

Limited, there will be no re-editions
ORDERING STARTS 11:00PM JST FRI 27 MAY 2022

All orders within a 12 minute window will be fulfilled

Deliveries start mid June 2022

Timezones (GMT) GMT: Friday, 27 May, 2:00pm

(BST) London: Friday, 27 May, 3:00pm

(EST) New York: Friday, 27 May, 10:00am

(GST) Dubai: Friday, 27 May, 6:00pm

(AEDT) Sydney: Saturday, 28 May, 12:00am

SOLD OUT
Conditions of Sale
Any transactions with Kurono means that you unequivocally accept the following terms and conditions of purchase:

Kurono has a strict No Refund policy.

Please ensure that you are certain in your purchasing decision before commencing to pay for your order. Finalizing and paying for your order will mean that you unequivocally understand and accept that you forfeit the right to cancellations and refunds for any reason whatsoever, even in the pre-order stage. As this is a limited edition item that is in high demand, this policy allows us to prevent hoarding/fraud and ensures that the product reaches the wrists of real buyers and fans. Any cancellations will be subject to a restocking fee of 19.23% of the watch's MSRP to cater to card transaction and platform costs. The extra will be donated to our selected children's charity of the season.

Shipping dates

Before making a purchase, please refer to the product pages on the shipping advisory. From time to time, there may be countries or jurisdictions where we may be allowed to ship to.

Precautions against resale accounts

Accounts that are suspected of being linked to reseller profiles will be banned immediately. We will take measures to prevent future purchases by such accounts.

Multiple purchases

To combat the existing reseller problem, we have a stringent one watch per customer policy. In the case of duplicate purchases, our system will detect this and both orders will be canceled.

Payment provider/Credit card errors

If a credit card error occurs at checkout, it is primarily due to either the security policies or restrictions put in place by your card issuer, and not our payments transactions provider. Please ensure that your card has overseas purchases enabled before you participate in this order. Please note that our payments provider will put in place strict verification processes such as OTP codes and matching addresses to your card.

Alternatively, you might want to consider alternative payment options such as Apple Pay or Android Pay. Please note that for Apple Pay, a Safari browser is necessary for it to work.

Loss of package/Custom delays

We will only use DHL International Economy/ FedEx International Priority from the point of origin and international airmail for all international orders. Please refer to DHL/FedEx's terms of service in your respective country should you require more information on shipping terms, conditions, and requirements.

You understand that any loss of packages or customs delays shall not be within the purview of Kurono, and any claims and correspondence shall be with DHL/FedEx, or with your country's customs authority. While Kurono shall provide assistance with regards to paperwork on a best effort basis, you understand that Kurono shall not be held liable for any matter with this regard.

Additional Measures to stem Speculation and Unauthorized Resale

Warranty for Limited Edition Items

- Warranty or service claims within the first six months of receiving your watch by anyone other than the original buyer on record will be rejected.

- Warranty for any watches discovered on the resale market within the first six months will be voided.

Shipping Policy

We will only use DHL International Economy/ FedEx International Priority from the point of origin and international airmail for all international orders. Please refer to DHL/FedEx's terms of service in your respective country should you require more information on shipping terms, conditions, and requirements.

VAT/GST/Excise Taxes

Please note that you have not been charged domestic VAT or related taxes at the point of order, DHL, FedEx, or the local delivery courier that they use may require you to pay the necessary VAT/GST/excise taxes applicable to your country of receipt before releasing the shipment. These taxes are unique to your country of domicile, and we shall not be held responsible for the payment of such taxes, except for local domestic taxes.

Exchanges & Repairs (Warranty)

All items are thoroughly inspected by watchmakers before they leave the factory for shipping. In the unlikely event that your item arrives damaged during transit, you may be eligible for a one-to-one exchange. Eligibility for exchange shall be on a case-by-case basis and only after your return is received and inspected. We will notify you of the approval or rejection of your exchange.

If you are approved, a new watch (if stock is available) shall be shipped to you without charge. If stock is unavailable, we will offer either a replacement of the affected part(s), a repair, or a refund.

We only repair or replace items if they are defective or damaged in transit. You will need to send pictures of the exterior of the shipping package in its entirety to help in your claim. You will be requested to take a picture of your warranty card to ensure the information tallies with your original order details as well. From there, we will make the necessary arrangements.

Please note that repairs may take up to 2-3 months depending on the condition of the watch. If you are uncomfortable with the waiting time, do consider before sending your watch back to the repair center.
Purchasing Questions
Yes, a valid account is necessary before purchase. We recommend that customers register for an account prior to any pre-order, so that the checkout process will not be delayed.
All warranty and service claims within the first six months of receiving your watch must be made through the original purchaser, otherwise it will be denied.
We accept the following payment methods: VISA, Mastercard, American Express (AMEX), Apple Pay & Android/Google Pay only. 
Payments for all Kurono Tokyo products will be charged only in JPY (¥), unless stated otherwise. 
No, payment should strictly be made by JPY (¥) only. There will be no other currency options available. 
We apologize, as our payment processing partner will only process one credit card per cart checkout.
A tracking number will be sent to you via e-mail once the package has been sent out. If you have more enquiries regarding this, do contact the Kurono team through e-mail at info@kuronotokyo.com
Due to the very short lead times between allocation and delivery, changes of addresses will not be allowed. Successful customers are advised to enter an accurate shipping address at the invoice finalization stage. Any changes after the fact may result in cancellation of your order and reallocation of your watch to another customer.