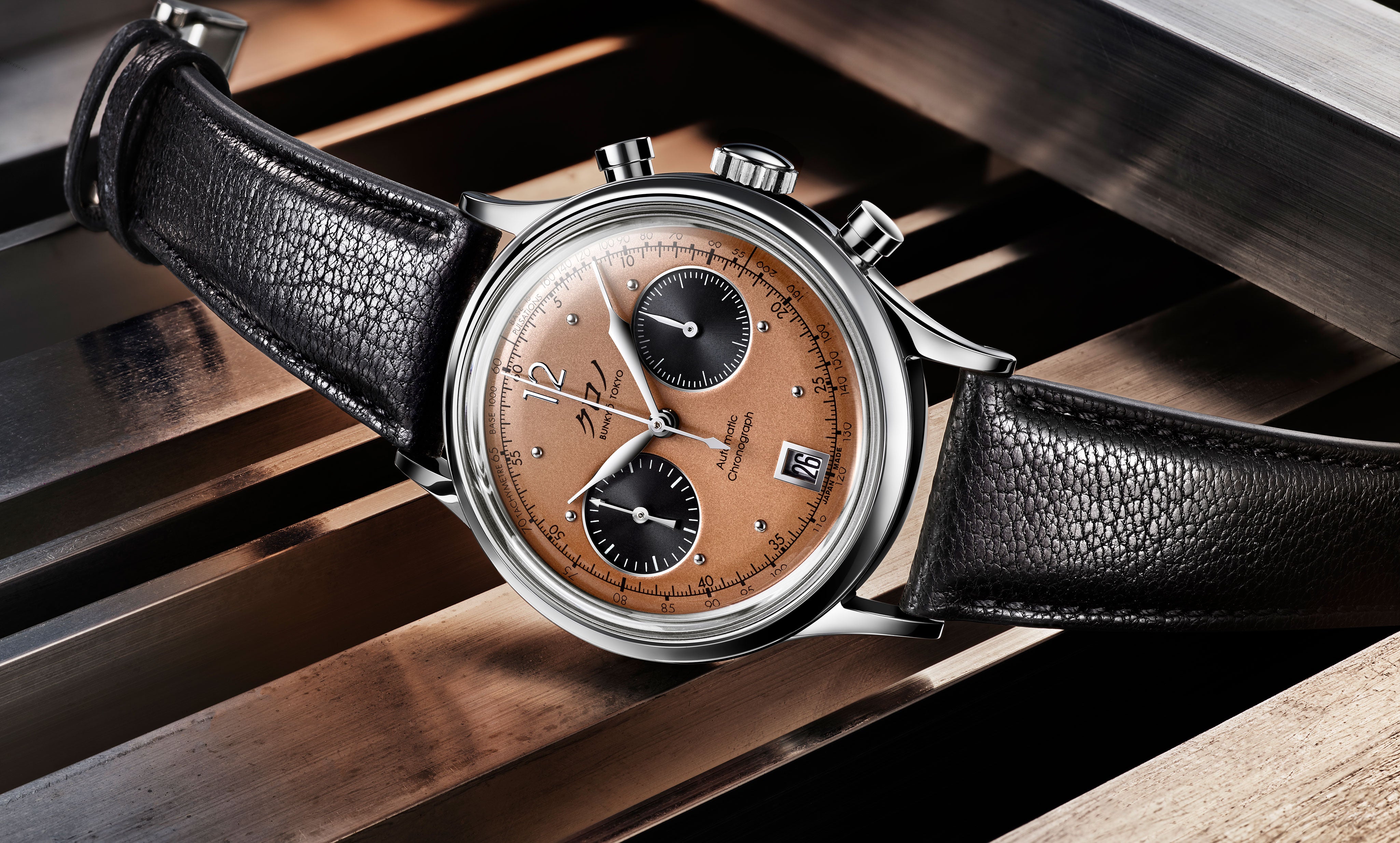 CHRONOGRAPH 1 MK.2
The Chronograph 1 Mk.2 is a new study in gentility and is a significant evolution of our first ever chronograph - incorporating its best design elements into our new Mk.2 chronograph case.
The Chronograph 1 Mk.2's rose gold main dial and black subdials lend an air of genteel refinement. Our unique thick box-sapphire glass allows for unique lightplay like never before - vibrant sophistication that shimmers in the light and a sense of sombre maturity in the shadows. The high reflectivity of the polished steel hands, markers and elements provide added depth and contrast even in low-light for better readability. For the first time in the chronograph range, a high-polish steel applique in arabic numerals is used at '12' in an art-deco font - signifying a new chapter in the design language and construction of the chronograph line-up.
The Chronograph 1 Mk.2 is available for ordering on 24th November at 11pm JST. It has a limited production of hundreds that shall not be repeated. Deliveries start Christmas 2022 thru early Feb 2023.
[all photography by Hajime Asaoka of actual watch]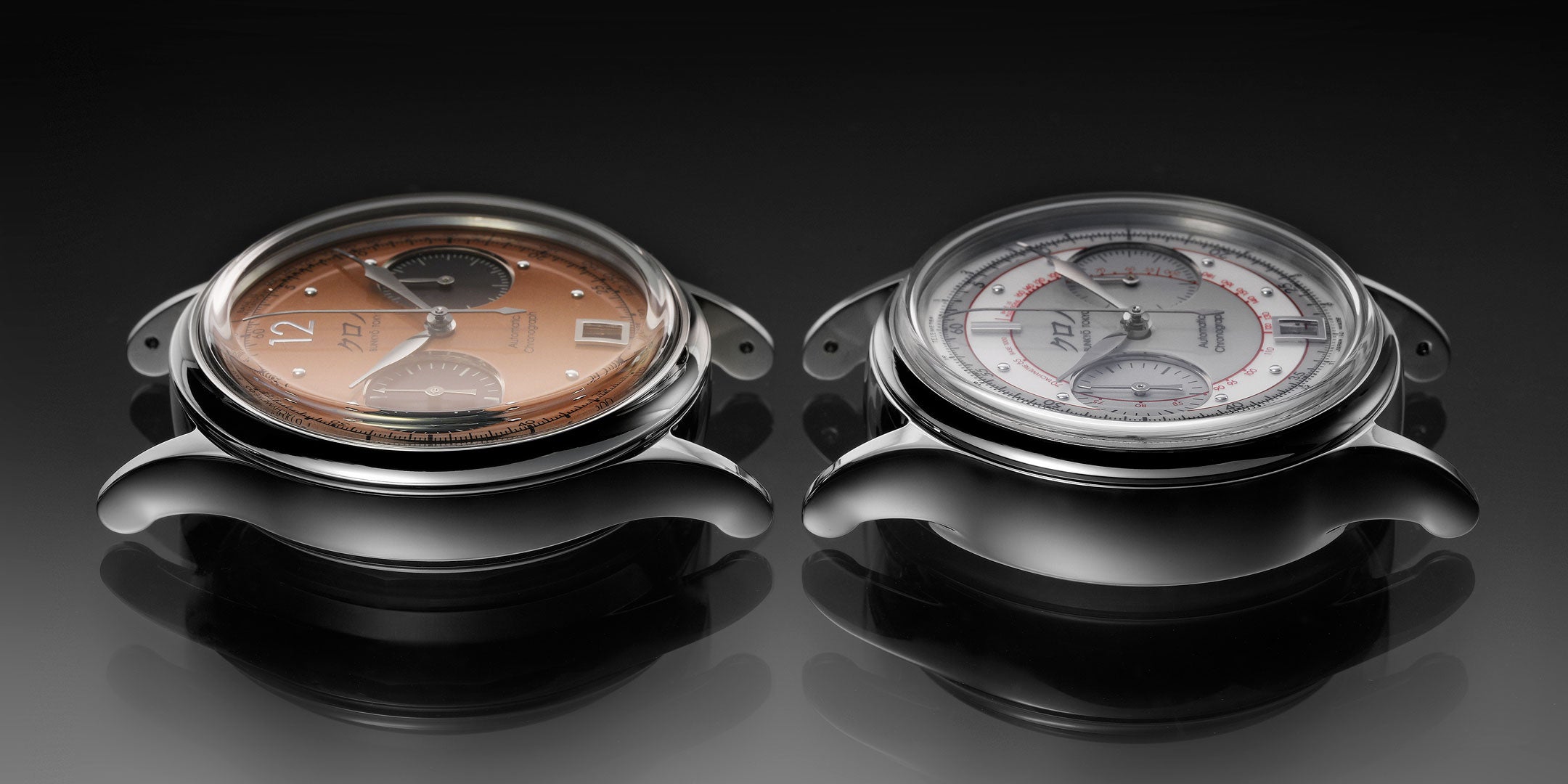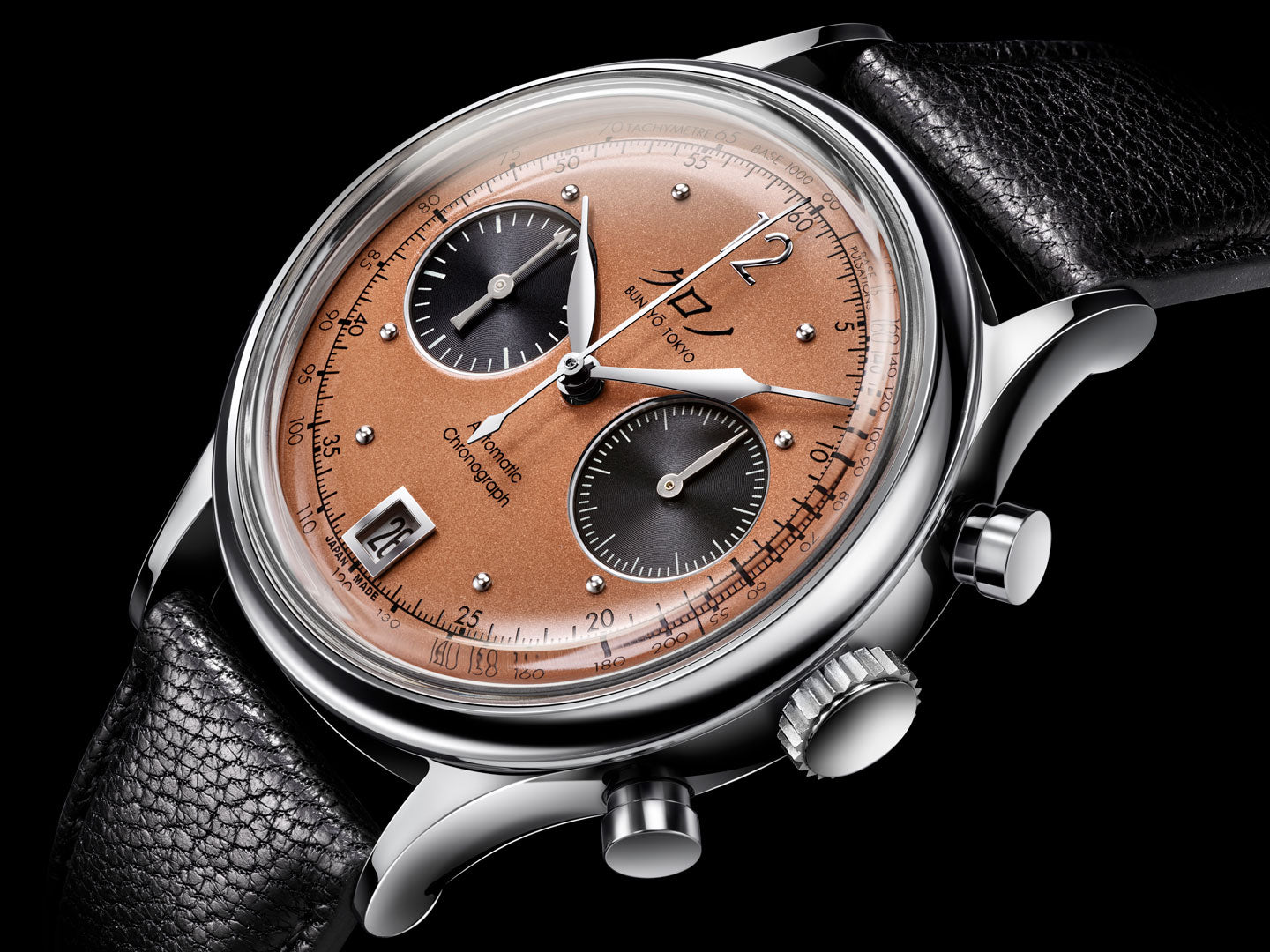 The Mk.2 chronograph case attempts to overcome significant engineering challenges Hajime Asaoka faced in the construction of the Chronograph 1 - which leveraged the Seiko NE86 that was by itself a thick movement at 7.65mm - and takes in stride collector requests for a thinner case. With the new Mk.2 case, Hajime Asaoka overcame the limitations by incorporating a design technique from the 1930s - to make the thickness of the movement imperceptible on the exterior. The Mk.2 is now a three-part case that has a much thinner visual profile, but is also built more robustly and allows for better repairability. In terms of comfort, the lugs shape and position have been newly adjusted to ensure the same comfortable fit as before.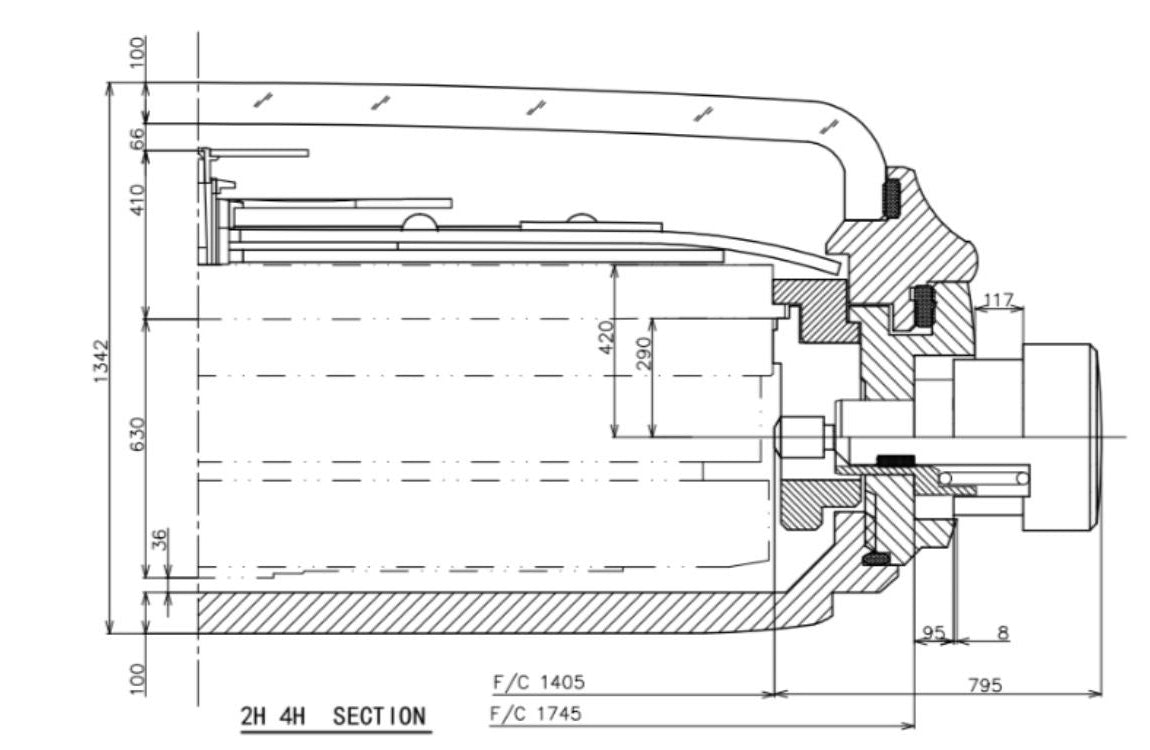 "The NE86 caliber used by Kurono chronographs is renowned for its reliability and excellent accuracy. By the way, automatic chronograph movements, including the NE86, are generally thick, making it difficult to achieve good proportions with an exterior 38 mm and less in diameter.

The exterior design of the previously introduced chronograph series took the approach of enlarging the proportions of the chronographs from around 34mm to 38mm. The reason for this was that the diameter-to-thickness ratio of hand-wound chronograph movements of the time was close to that of the NE86. As a result, the thickness of the movement is slightly emphasized, giving it a unique impression.

In the new MK.2, the actual thickness remains almost the same [sic: slightly slimmer at13.5mm vs 13.9mm - 13.5mm is the thinnest chronograph equipped with the NE86), but the design balance has been pursued to the utmost limit so that the watch looks thinner as a 38mm exterior.

In particular, the lower part of the case has been sharply narrowed to give the watch a 30% thinner visual impression when worn on the wrist. While such design innovations have been tried in past chronographs, there is a trade-off in terms of wearability, and for the MK.2, I took the time to carefully consider this aspect of the design. As a result, I believe we have created the ultimate exterior design for a 38mm automatic chronograph."
~ Hajime Asaoka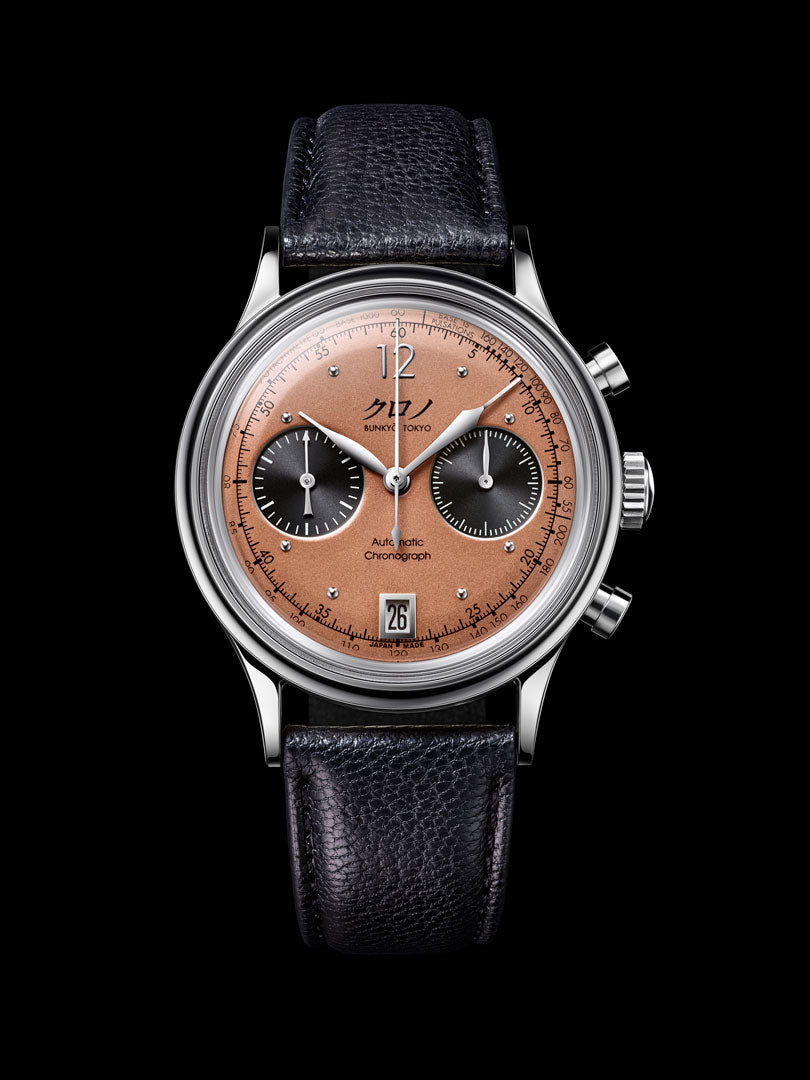 Dial & Sapphire Glass
The Chronograph 1 Mk.2 features a high-polish arabic '12' applique at the top, flanked by our iconic polished steel studs as hour markers and a polished steel surround for the date window. The perimeter scale features pulsometer and tachymeter indicators.

The dial itself is called a cylinder dial, which is gently curved from the center to the outer edge. While most modern ebauche movements including the NE86 are designed to have flat dials, the dial of the Chronograph 1 Mk.2 is designed to be cylinder-shaped. In order to create a three-dimensional effect, the main part of the dial and the sub-dial were manufactured separately and then fitted together, wih the subdial steel surround ring being diamond-cut.
A sapphire box crystal is used to give the watch a beautiful shape, similar to the acrylic glass of vintage watches. It allows for unparalleled lightplay where different lighting environments allow for different looks for the watch.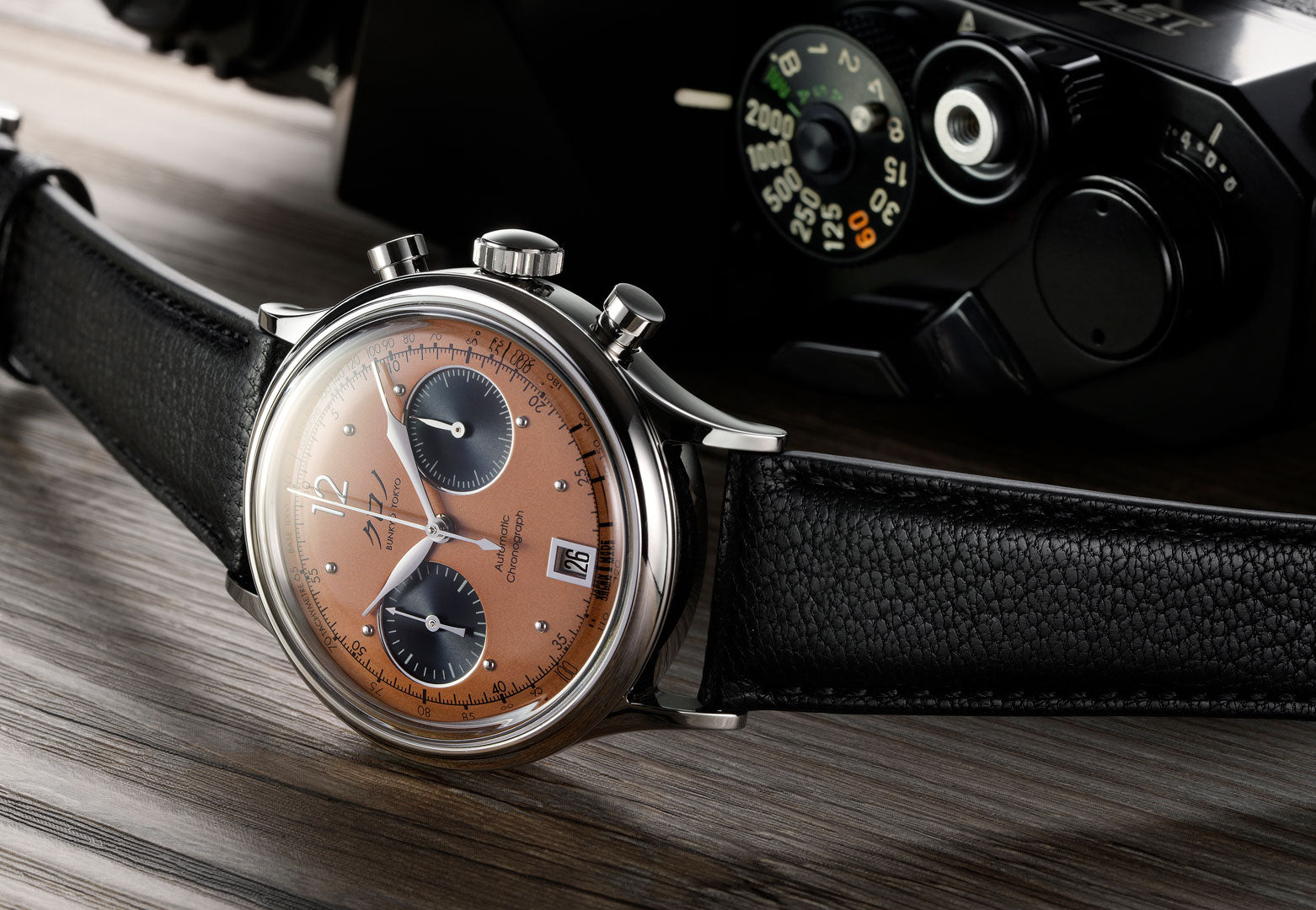 Hands
The combination of leaf hands and modern hour and minute hands is an icon of Kurono. The tips of the minute and chronograph seconds hands are bent by hand to match the curves of the dial and glass. the elapsed-time subdial at '9' is set with a uniquely designed high-polished subhand in the shape of a traditional Japanese 'kyudo' arrow. The different shape of all hands is a device used in the high-end chronographs of the 1950s and 1960s, which Mr. Asaoka is fond of, and is intended to improve legibility. Anecdotally, for the very first Chronograph 1, the hands were bent by hand over the roof of a die-cast toy car to get the perfect angle consistently.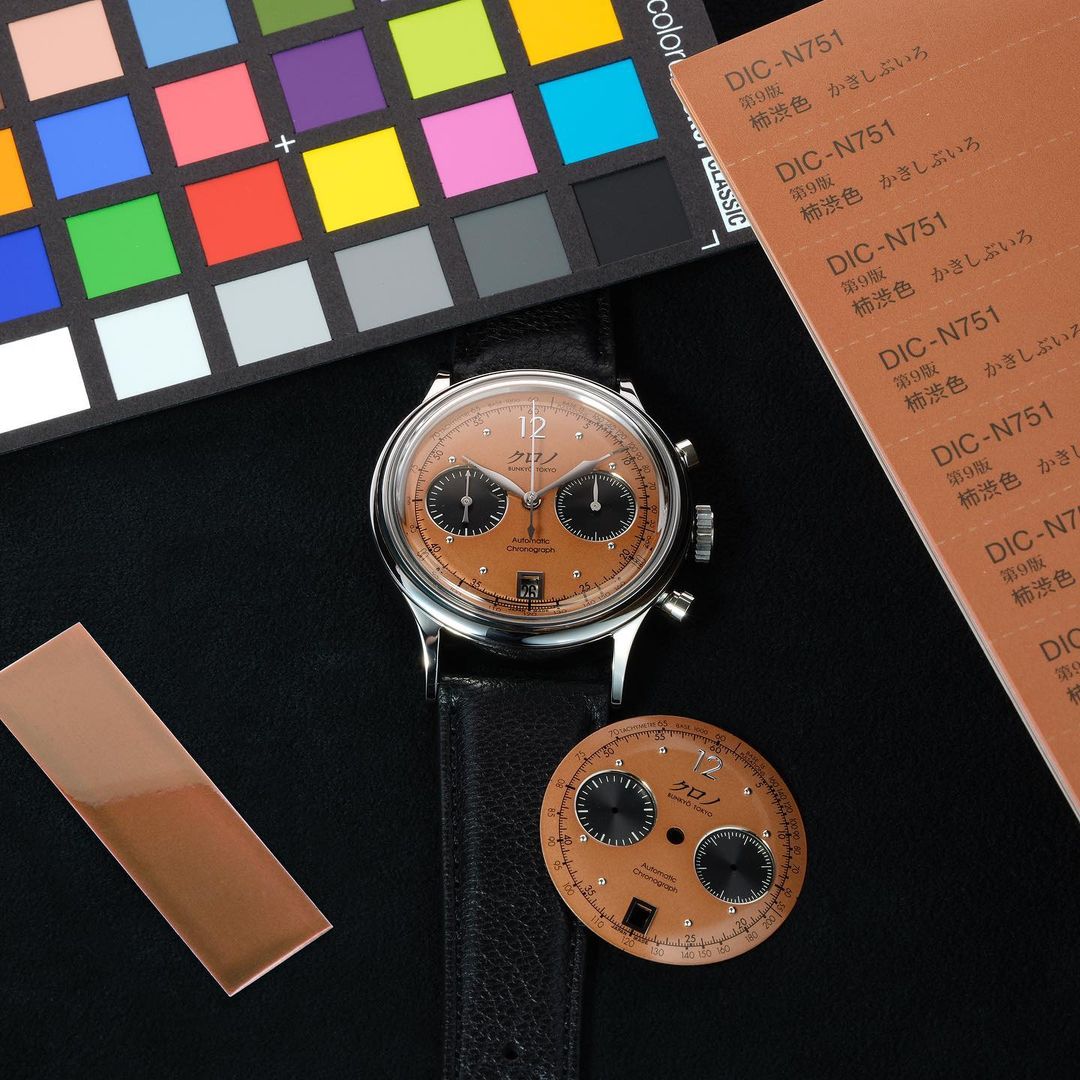 "In my case, I often choose from traditional Japanese colours when deciding on the colour of the dial. In this case, I chose the colour 'kakishibu-iro'. In kanji, it is written like this. '柿渋色'.

Kakishibu-iro means the colour of kakishibu (iro=colour). Kakishibu is a fermented juice of the fruit persimmon, and has long been used in Japan as an antiseptic and paint. It is similar to 'salmon' in colour, but slightly brownish. It is also known as 'danjyuro-cha', as it was the favourite colour of the famous Kabuki actor Ichikawa Danjuro. The word 'cha' means brown.
However, in kakishibu-iro the name is too long, so I simply called it salmon with the person in charge of the dial painting. I am not too particular about the name of the colour itself. I think it should simply be something that is easy to call. Therefore, salmon or pink gold is fine.

When I specify the colour of the dial, I actually check it by applying the paint I have formulated myself to the metal plate and hand it over to the person in charge of painting. This is what you see in the bottom left-hand corner of the image. The look of the colour is very important.This is the exact kakishibu-iro." ~Hajime Asaoka
Movement
Hajime Asaoka chose the mechanical chronograph calibre NE86 from one of Japan's most esteemed movement manufactures. Positioned by SII as its newest flagship chronograph movement and successor to the 6S - it is a premium caliber, the 311-part movement combines traditional chronograph features like a column wheel, vertical clutch, and a magic lever winding system; it has a unique three-pointed hammer system that starts, stops, and resets all three wheels simultaneously. This allows for all the counters to advance continuously rather than only at one-minute intervals. Additionally, instead of driving the minute and hour counters from the chronograph seconds wheel, each is driven by a powered wheel with its own clutch. This delivers increased accuracy and longer-term durability. The movement has a power reserve of 45 hours. The NE86 is a movement that even Mr. Asaoka, who makes his own movements, trusts.
Ordering
It has a limited production of hundreds that shall not be repeated.
Deliveries start Christmas 2022 thru early Feb 2023.
GLOBAL ALLOCATION IS SOLD OUT
Specifications & Availability
SPECIFICATIONS
Functions: hours, minutes, seconds, date, chronograph
Automatic winding
Case diameter: 38 mm
Case thickness: 11.7mm (13.5mm incl sapphire)
Case material: Stainless steel (316L, high-polished)
Water resistance: 3 atm
Lug to lug length: 46.8 mm
Lug width: 20 mm
Strap: calf leather
Movement: NE86 (automatic winding, 34 jewels, 28,800 vibrations per hour, power reserve approx. 45 hours)
Glass: sapphire box crystal
Made in Japan
Limited production of hundreds

AVAILABILITY & DELIVERIES
Deliveries start Christmas 2022 thru early Feb 2023.

SOLD OUT
Conditions of Sale
Any transactions with Kurono means that you unequivocally accept the following terms and conditions of purchase:

KURONO HAS A STRICT NO REFUND POLICY

Please ensure that you are certain in your purchasing decision before commencing to pay for your order. Finalizing and paying for your order will mean that you unequivocally understand and accept that you forfeit the right to cancellations and refunds for any reason whatsoever, even in the pre-order stage. As this is a limited edition item that is in high demand, this policy allows us to prevent hoarding/fraud and ensures that the product reaches the wrists of real buyers and fans. Any cancellations will be subject to a restocking fee of 19.23% of the watch's MSRP to cater to card transaction and platform costs. The extra will be donated to our selected children's charity of the season.

Shipping dates

Before making a purchase, please refer to the product pages on the shipping advisory. From time to time, there may be countries or jurisdictions where we may be allowed to ship to.

Precautions against resale accounts

Accounts that are suspected of being linked to reseller profiles will be banned immediately. We will take measures to prevent future purchases by such accounts.

Multiple purchases

To combat the existing reseller problem, we have a stringent one watch per customer policy. In the case of duplicate purchases, our system will detect this and both orders will be canceled.

Payment provider/Credit card errors

If a credit card error occurs at checkout, it is primarily due to either the security policies or restrictions put in place by your card issuer, and not our payments transactions provider. Please ensure that your card has overseas purchases enabled before you participate in this order. Please note that our payments provider will put in place strict verification processes such as OTP codes and matching addresses to your card.

Alternatively, you might want to consider alternative payment options such as Apple Pay or Android Pay. Please note that for Apple Pay, a Safari browser is necessary for it to work.

Loss of package/Custom delays

We will only use DHL International Economy/ FedEx International Priority from the point of origin and international airmail for all international orders. Please refer to DHL/FedEx's terms of service in your respective country should you require more information on shipping terms, conditions, and requirements.

You understand that any loss of packages or customs delays shall not be within the purview of Kurono, and any claims and correspondence shall be with DHL/FedEx, or with your country's customs authority. While Kurono shall provide assistance with regards to paperwork on a best effort basis, you understand that Kurono shall not be held liable for any matter with this regard.

Additional Measures to stem Speculation and Unauthorized Resale

Warranty for Limited Edition Items

- Warranty or service claims within the first six months of receiving your watch by anyone other than the original buyer on record will be rejected.

- Warranty for any watches discovered on the resale market within the first six months will be voided.

Shipping Policy

We will only use DHL International Economy/ FedEx International Priority from the point of origin and international airmail for all international orders. Please refer to DHL/FedEx's terms of service in your respective country should you require more information on shipping terms, conditions, and requirements.

VAT/GST/Excise Taxes

Please note that you have not been charged domestic VAT or related taxes at the point of order, DHL, FedEx, or the local delivery courier that they use may require you to pay the necessary VAT/GST/excise taxes applicable to your country of receipt before releasing the shipment. These taxes are unique to your country of domicile, and we shall not be held responsible for the payment of such taxes, except for local domestic taxes.

Exchanges & Repairs (Warranty)

All items are thoroughly inspected by watchmakers before they leave the factory for shipping. In the unlikely event that your item arrives damaged during transit, you may be eligible for a one-to-one exchange. Eligibility for exchange shall be on a case-by-case basis and only after your return is received and inspected. We will notify you of the approval or rejection of your exchange.

If you are approved, a new watch (if stock is available) shall be shipped to you without charge. If stock is unavailable, we will offer either a replacement of the affected part(s), a repair, or a refund.

We only repair or replace items if they are defective or damaged in transit. You will need to send pictures of the exterior of the shipping package in its entirety to help in your claim. You will be requested to take a picture of your warranty card to ensure the information tallies with your original order details as well. From there, we will make the necessary arrangements.

Please note that repairs may take up to 2-3 months depending on the condition of the watch. If you are uncomfortable with the waiting time, do consider before sending your watch back to the repair center.
Purchasing Questions
Yes, a valid account is necessary before purchase. We recommend that customers register for an account prior to any pre-order, so that the checkout process will not be delayed.
All warranty and service claims within the first six months of receiving your watch must be made through the original purchaser, otherwise it will be denied.
We accept the following payment methods: VISA, Mastercard, American Express (AMEX), Apple Pay & Android/Google Pay only. 

Only VISA, Mastercard, American Express (AMEX) and bank transfer are eligible in the store.
Payments for all Kurono Tokyo products will be charged only in JPY (¥), unless stated otherwise. 
No, payment should strictly be made by JPY (¥) only. There will be no other currency options available. 
We apologize, as our payment processing partner will only process one credit card per cart checkout.
A tracking number will be sent to you via e-mail once the package has been sent out. If you have more enquiries regarding this, do contact the Kurono team through e-mail at info@kuronotokyo.com
Due to the very short lead times between allocation and delivery, changes of addresses will not be allowed. Successful customers are advised to enter an accurate shipping address at the invoice finalization stage. Any changes after the fact may result in cancellation of your order and reallocation of your watch to another customer.