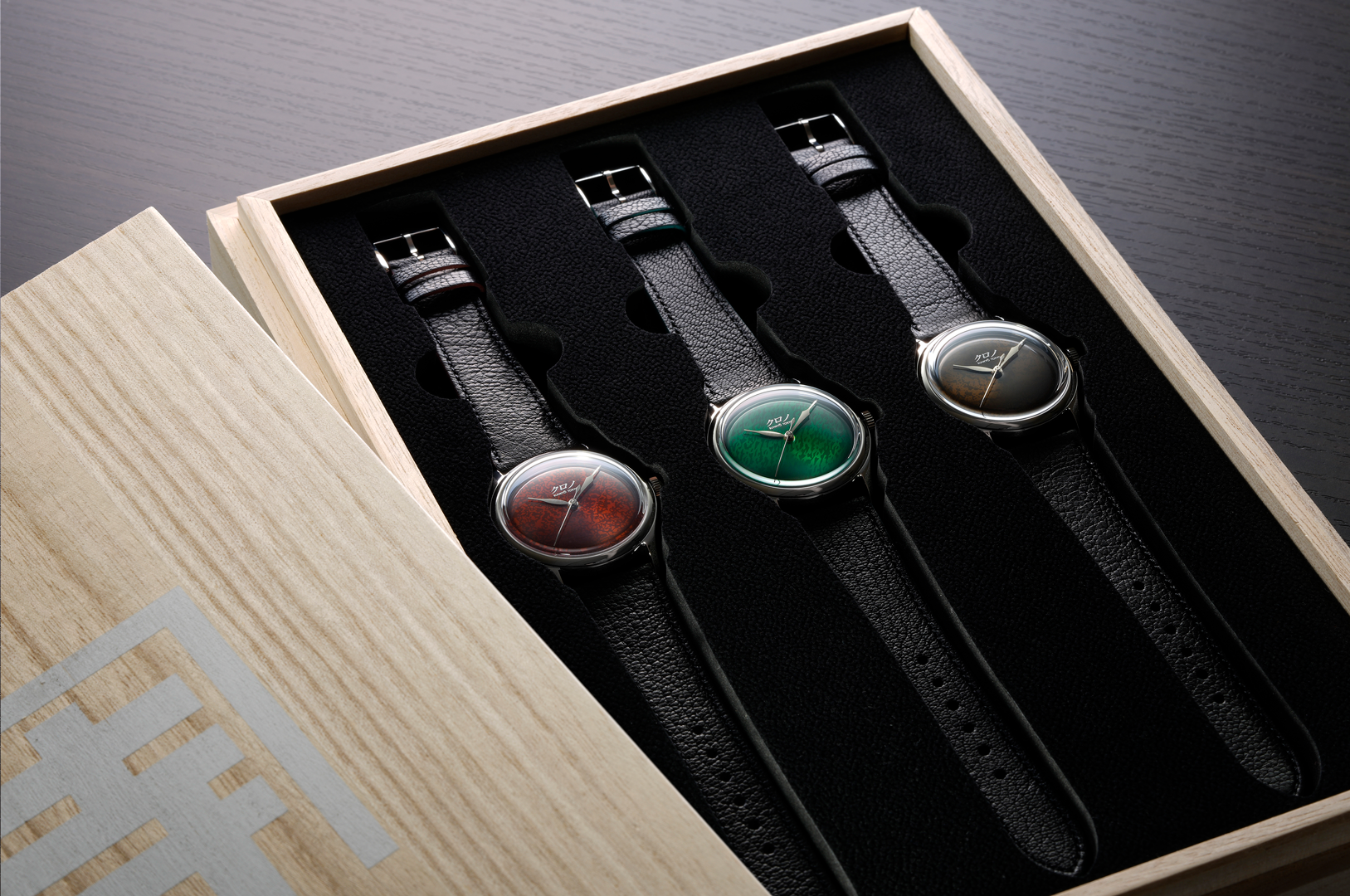 GRAND URUSHI AOYAMA
In celebration of our new salon in Aoyama, Kurono is proud to introduce the very limited Kurono Grand Urushi Aoyama - three exceptional urushi executions limited to 188 pieces each (including those sold as a set. It takes the very best of what we have done in terms of finishing - hand-made urushi dials - and displays without any embellishments the purity and beauty of an urushi-based design by Hajime Asaoka.
The Grand Urushi Aoyama will be available as a set of three in a special Japanese paulownia wood presentation box, or individually in regular packaging. 88 sets of three will first be available in Dec 2022 with individual watches available from Feb 2023. Either set or individual can be ordered at the salon now.

HOW TO BUY:
The Grand Urushi Aoyama can only be ordered and picked up at the Kurono salon in Aoyama, Tokyo. All bookings require full payment and are strictly non-refundable. The watches are now exhibited in the salon.

Stock Updates:
- Green Urushi: Sold Out
- Red Urushi: Sold Out
- Brown Urushi: Sold Out
- Set of 3: Sold Out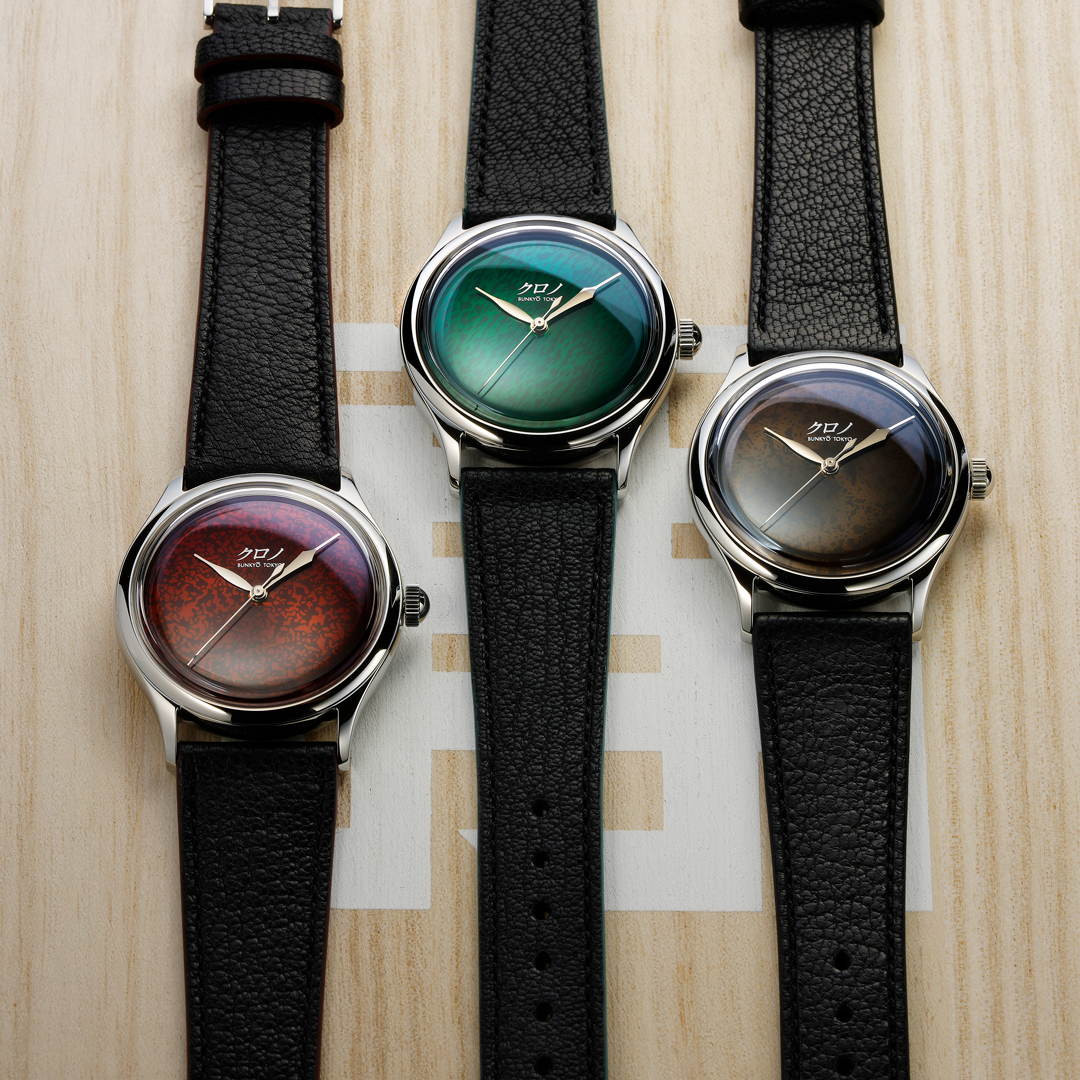 HANDMADE URUSHI PURITY
Urushi lacquer is made from the filtered sap of the Japanese rhus vernicifera tree. It is seen as a miraculous substance that cures naturally into a material with remarkable properties. The lacquer absorbs moisture from the air as it hardens, making the lacquered surface perpetually shiny and slick. Over time, urushi will become harder and more scratch-resistant as the curing process continues even after the initial manufacture. Suki-Urushi (or clear lacquer) seals the specific patterns on each dial. Sunlight - specifically UV light - will, over time, lighten and make it more translucent and warmer or cooler.
Urushi has been used as a lacquer in Japan for thousands of years. The sap from the lacquer tree is refined and colored with pigments and other ingredients to produce a final work characterized by its beautiful finish and durability. Lacquer trees are 10 to 20 years old when their sap can finally be harvested. After the sap is collected, the trees die, and new trees are planted by hand. Only about 200 grams of sap can be extracted from each tree, making it extremely valuable and increasingly rare.
The subtle, distinctive trait of the urushi is that when exposed to natural and UV light, it will turn brighter over time due to moisture loss which usually takes years. For our Kurono customers, depending on the country you are situated in, the urushi dial will change color, creating a unique piece for each of you.
Urushi dials have perhaps the highest rejection rate amongst all Kurono watches, if not across the industry. The surface has to be pristine, like the surface of a calm lake in autumn. Additionally, urushi dials require up to 2 months to dry and prep. Throughout the lengthy process, whether a mistake made during hand painting or even a single retained speck of dust - it would amplify imperfections during the drying process and hence has to be thrown out.
Presentation
A special presentation box in Japanese paulownia wood will be prepared for customers that purchase a set of three Grand Urushi Aoyama. Embellished directly on the wooden cover is the word 'Time' in Japanese, with the font personally designed by Hajime Asaoka.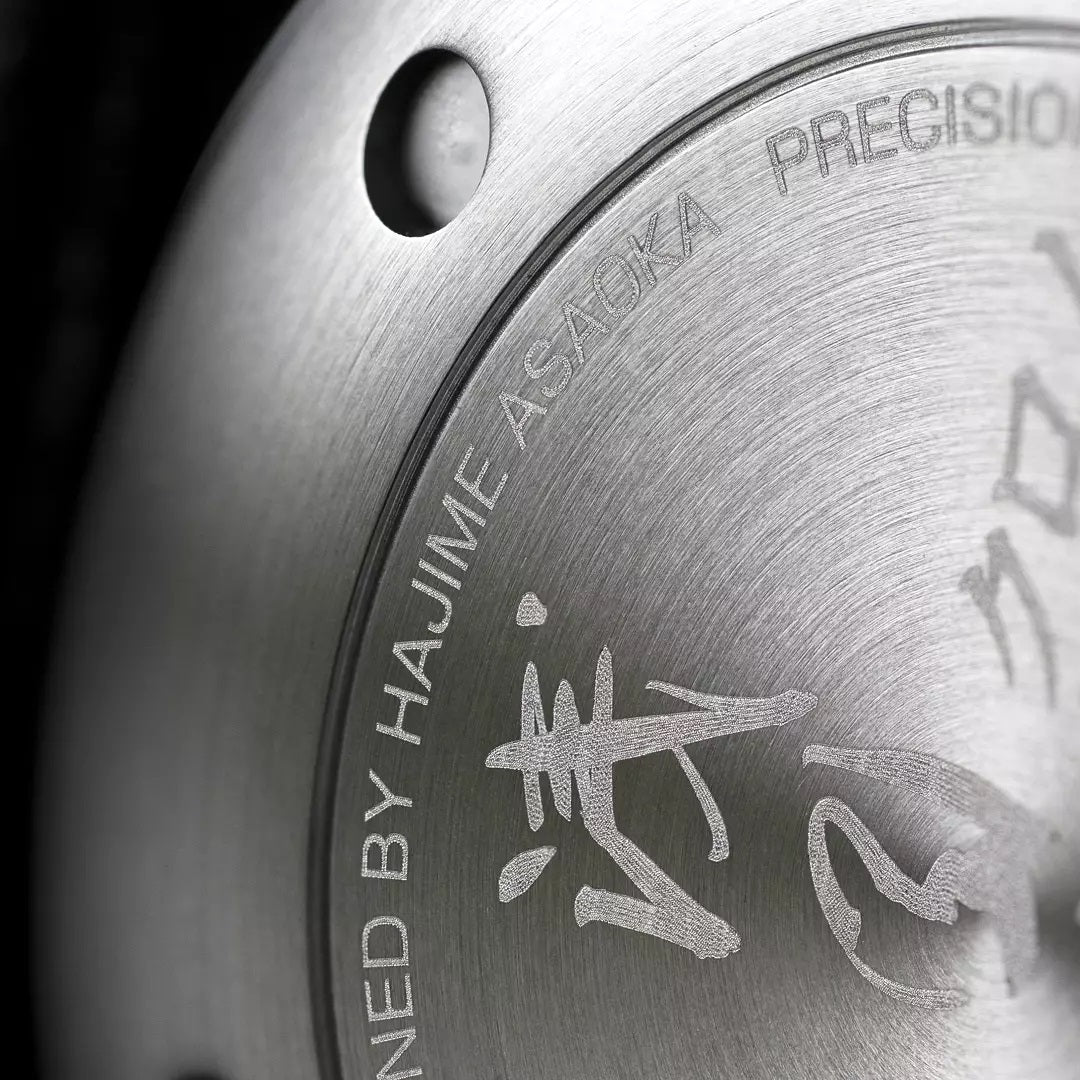 Caseback
Kurono watches with the 'Grand' designation feature an elevated level of artisanal craftsmanship, and is differentiated not only by its innate beauty, but also with a signature caseback exclusive to 'Grand' watches. The focal point of this exclusive caseback is Hajime-sensei's signature embellished in bold kanji calligraphy alongside the impression of his one-of a-kind hanko stamp.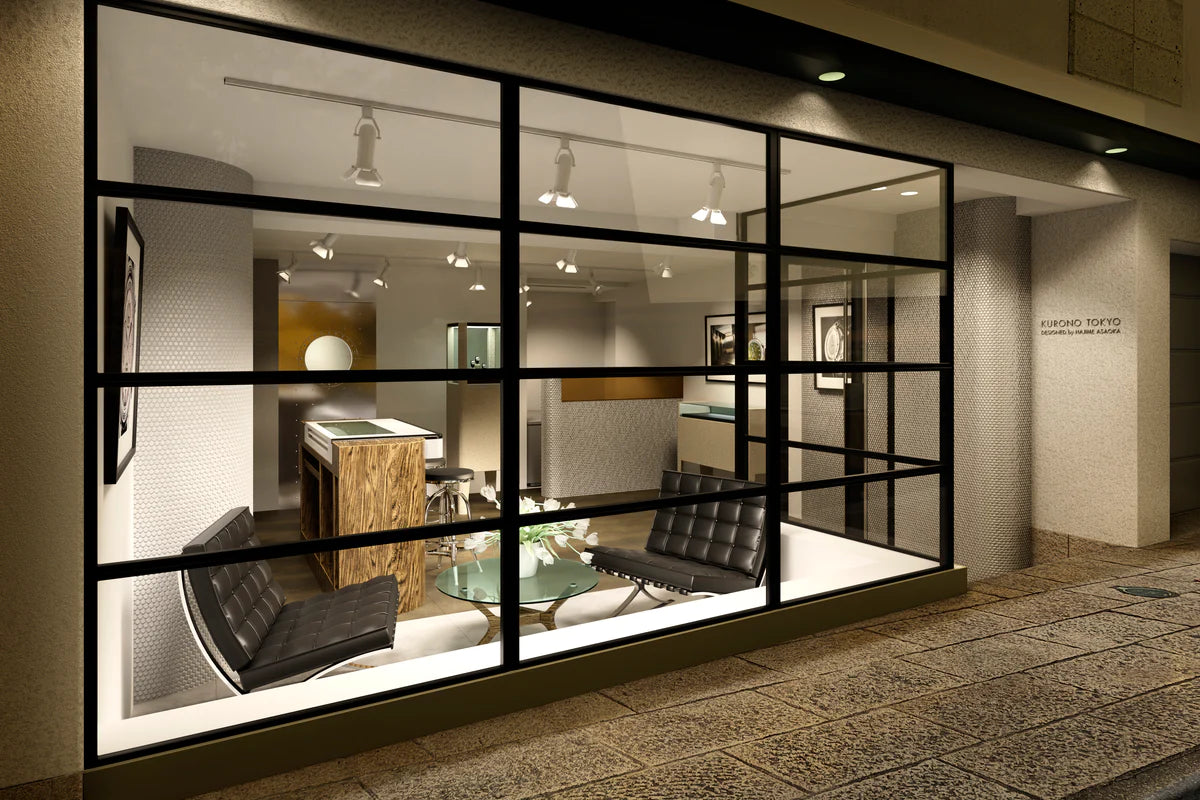 How To Purchase
1. Grand Urushi Aoyama can ONLY be purchased and collected physically from the Kurono Tokyo Aoyama salon. There is no online ordering.

2. Customers must have a valid account. You can sign up for one at the Aoyama salon

3. You can only purchase either one Set of 3, or one individual watch

4. Full payment must be made during your order, this is strictly non-refundable

5. Domestic VAT applies.
Sales Process For Grand Urushi Aoyama
Specifications & Availability
Hand-applied urushi lacquer dial
Japan-made Premium Automatic movement 90S5 by Miyota
Unique box sapphire glass
Embellished caseback
28,800 vibrations / hour
Power reserve 40 hours
Waterproof to 3 ATM
316L high-polished 37mm stainless steel case
Thickness: 7mm (excl sapphire glass)
Black calf leather band with red/green/black embellished sides
20mm at lugs, 16mm at buckle
Made in Japan
3 exceptional urushi watches limited to 188 each (including those sold as a set), there will be no re-editions
SET OF THREE: Available from Dec 2022

INDIVIDUAL: Available from Feb 2023

The Grand Urushi Aoyama can only be ordered and picked up at the Kurono salon in Aoyama, Tokyo. All bookings require full payment and are strictly non-refundable.
Purchasing Questions
Yes, a valid account is necessary before purchase. You can also register for an account at the Aoyama salon.
All major credit cards and bank transfers are accepted at the Aoyama salon.
To combat the existing reseller problem, we have a stringent one watch per customer policy. The Grand Urushi Aoyama can only be purchased individually or in sets of three.
Due to the value of the Grand Urushi Aoyama, all purchases and collection for the Kurono Grand Urushi Aoyama can only be made in the salon.
All warranty and service claims within the first six months of receiving your watch must be made through the original purchaser, otherwise it will be denied.
We are pleased to announce that we now offer tax-free purchases to tourists in-store.
Conditions of Sales
Any transactions with Kurono means that you unequivocally accept the following terms and conditions of purchase:

Kurono has a strict No Refund policy.

Please ensure that you are certain in your purchasing decision before commencing to pay for your order. Finalizing and paying for your order will mean that you unequivocally understand and accept that you forfeit the right to cancellations and refunds for any reason whatsoever, even in the pre-order stage. As this is a limited edition item that is in high demand, this policy allows us to prevent hoarding/fraud and ensures that the product reaches the wrists of real buyers and fans. Any cancellations will be subject to a restocking fee of 19.23% of the watch's MSRP to cater to card transaction and platform costs. The extra will be donated to our selected children's charity of the season.

Precautions against resale accounts

Accounts that are suspected of being linked to reseller profiles will be banned immediately. We will take measures to prevent future purchases by such accounts.

Multiple purchases

To combat the existing reseller problem, we have a stringent one watch per customer policy. In the case of duplicate purchases, our system will detect this and both orders will be canceled.

Payment provider/Credit card errors

If a credit card error occurs at checkout, it is primarily due to either the security policies or restrictions put in place by your card issuer, and not our payments transactions provider. Please ensure that your card has overseas purchases enabled before you participate in this order. Please note that our payments provider will put in place strict verification processes such as OTP codes and matching addresses to your card.

Alternatively, you might want to consider alternative payment options such as Apple Pay or Android Pay. Please note that for Apple Pay, a Safari browser is necessary for it to work.

Additional Measures to stem Speculation and Unauthorized Resale

Warranty for Limited Edition Items

- Warranty or service claims within the first six months of receiving your watch by anyone other than the original buyer on record will be rejected.

- Warranty for any watches discovered on the resale market within the first six months will be voided.

VAT/GST/Excise Taxes

Please note that you will be charged domestic VAT at the point of order.

Exchanges & Repairs (Warranty)

All items are thoroughly inspected by watchmakers before they leave the factory for shipping. In the unlikely event that your item arrives damaged during transit, you may be eligible for a one-to-one exchange. Eligibility for exchange shall be on a case-by-case basis and only after your return is received and inspected. We will notify you of the approval or rejection of your exchange.

If you are approved, a new watch (if stock is available) shall be shipped to you without charge. If stock is unavailable, we will offer either a replacement of the affected part(s), a repair, or a refund.

We only repair or replace items if they are defective or damaged in transit. You will need to send pictures of the exterior of the shipping package in its entirety to help in your claim. You will be requested to take a picture of your warranty card to ensure the information tallies with your original order details as well. From there, we will make the necessary arrangements.

Please note that repairs may take up to 2-3 months depending on the condition of the watch. If you are uncomfortable with the waiting time, do consider before sending your watch back to the repair center.