'this watch is my personal desire' • 'in 2021 i really wanted to release a white chronograph but was forced to launch only black' • 'as a small independent we are limited in the number movements we can procure' • 'in the year since the first prototype i've been wearing it myself, figuring out improvements, and then making many new dial samples' • 'as a result, i'm proud to say I have created a dial with a very high degree of perfection and one with absolute balance' • 'looking back it was good that the delay allowed me to release something exceptionally complete' • 'i am very happy to be able to make this deferred desire a reality' ▹ hajime asaoka ◃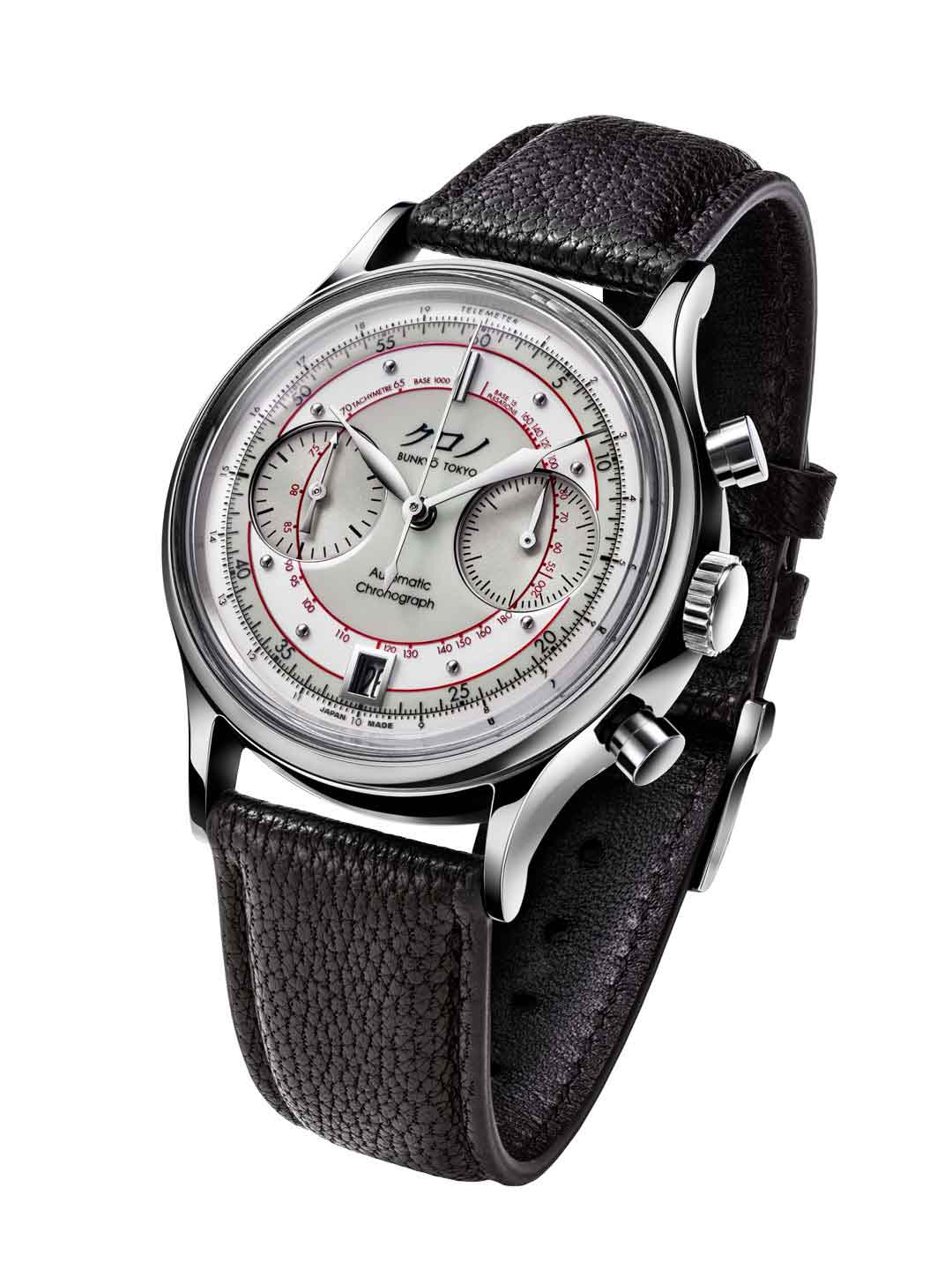 CHRONOGRAPH II WHITE 'SHIRO'
sophisticated simplicity
brilliant serenity • a refined chronograph based on hajime asaoka's personal preference
chronograph ii white, nicknamed 'shiro', is a refined interpretation of the iconic chronograph ii design by hajime asaoka • a longer prototyping period has allowed for numerous improvements across the board • from higher definition printing to greater depth of field from thicker lacquer • from light refraction and concentric guilloche, to parallax overprinting and 'kyudo' arrow hands • we hope customers will find pleasure in the exploration of the details put into the construction of the watch
'simple elements such as the white on the dial is much more than just color - the brilliance of the white was achieved by fine sandblasting of the dial followed by silvering, and with the thick lacquer giving it the appearance of bright white'
hajime chose the mechanical chronograph calibre NE86 from one of Japan's most esteemed movement manufactures • positioned by SII as its newest flagship chronograph movement and successor to the 6S • a premium caliber, the 311-part movement combines traditional chronograph features like a column wheel, vertical clutch, and a magic lever winding system • it has a unique three-pointed hammer system that starts, stops, and resets all three wheels simultaneously • this allows for all the counters to advance continuously rather than only at one-minute intervals • additionally, instead of driving the minute and hour counters from the chronograph seconds wheel, each is driven by a powered wheel with its own clutch • this delivers increased accuracy and longer-term durability • the movement has a power reserve of 45 hours
Specification & Availability
significantly thicker clear-lacquer • bright-white, heron-white, and red interplay of colors • a pronounced slope at the dial periphery • recessed sub-dials with diamond-cut steel surrounds • improved multi-layer printing for exceptionally crisp text • pulsometer/tachymeter with date • high-polished domed-steel hour markers
japan-made mechanical self-winding chronograph movement • 316L high-polished 38mm stainless steel case ∙ solid caseback • 38mm diameter, thickness 13.9 including sapphire • 45 hour power reserve, frequency of 28,800bph, 34 rubies • high-curvature sapphire crystal • water resistant to 3atm • made in japan • a single limited edition run in the hundreds
shipments begin april 2022


日本にお住まいの方・Kuronoコントリビューターへの特別枠

本モデルは総本数の約20%は、日本にお住まいの方およびKuronoコントリビューター(ブランドアンバサダー)への特別枠となります。日本にお住まいの方のみ、ご予約をしていただける時間帯もございます。この特別枠をご利用される場合、日本国内のご自宅住所を入力していただく必要があります

public sale for global customers

11.30pm (japan standard time), thursday 24 february ◀

(gmt) london: thursday, 24 february, 2:30pm

(est) new york: thursday, 24 february, 9:30am

(gst) dubai: thursday, 24 february, 6:30pm

(aedt) sydney: friday, 25 february, 1:30am

SOLD OUT
Conditions of Sale
Due to the extremely limited production capability for Chronograph II 'shiro', the watch shall be produced in 'an edition of hundreds' and shall not be repeated. We will not provide a statement of the exact number of watches that will be produced. Continuing with your transaction means that you unequivocally accept the following terms and conditions of purchase:


Multiple purchases

To combat the existing reseller problem, we have a stringent one watch per customer policy. In the case of duplicate purchases, our system will detect this and both orders will be canceled.

Precautions against resale accounts

Accounts that are suspected of being linked to reseller profiles will be banned immediately. We will take measures to prevent future purchases by such accounts.

Payment provider/Credit card errors

If a credit card error occurs at checkout, it is primarily due to either the security policies or restrictions put in place by your card issuer, and not our payments transactions provider. Please ensure that your card has overseas purchases enabled before you participate in this order. Please note that our payments provider will put in place strict verification processes such as OTP codes and matching addresses to your card. Alternatively, you might want to consider alternative payment options such as Apple Pay or Android Pay. Please note that for Apple Pay, a Safari browser is necessary for it to work.

Returns & Refunds - Kurono has a strict No Refund policy.

Please ensure that you are certain in your purchasing decision before commencing to pay for your order. Finalizing and paying for your order will mean that you unequivocally understand and accept that you forfeit the right to cancellations and refunds for any reason whatsoever, even in the pre-order stage. As this is a limited edition item that is in high demand, this policy allows us to prevent hoarding/fraud and ensures that the product reaches the wrists of real buyers and fans. Any cancellations will be assessed on a case-by-case basis, and if allowed such cancellations will be subject to a restocking fee of 19.23% of the watch's MSRP to cater to card transaction and platform costs. The extra will be donated to our selected children's charity of the season.

Exchanges & Repairs (Warranty)

All items are thoroughly inspected by watchmakers before they leave the factory for shipping. In the unlikely event that your item arrives damaged during transit, you may be eligible for a one-to-one exchange. Eligibility for exchange shall be on a case-by-case basis and only after your return is received and inspected. We will notify you of the approval or rejection of your exchange. If you are approved, a new watch (if stock is available) shall be shipped to you without charge. If stock is unavailable, we will offer either a replacement of the affected part(s), a repaid, or a refund shall be offered to you. We only repair or replace items if they are defective or damaged in transit. You will need to send pictures of the exterior of the shipping package in its entirety to help in your claim. You will be requested to take a picture of your warranty card to ensure the information tallies with your original order details as well. From there, we will make the necessary arrangements. Please note that repairs may take up to 2-3 months depending on the condition of the watch. If you are uncomfortable with the waiting time, do consider before sending your watch back to the repair center.

Shipping Policy

We will only use DHL International Economy/ FedEx International Priority from the point of origin and international airmail for all international orders. Please refer to DHL/FedEx's terms of service in your respective country should you require more information on shipping terms, conditions, and requirements.

VAT/GST/Excise Taxes

Please note that you have not been charged domestic VAT or related taxes at the point of order, DHL, FedEx, or the local delivery courier that they use may require you to pay the necessary VAT/GST/excise taxes applicable to your country of receipt before releasing the shipment. These taxes are unique to your country of domicile, and we shall not be held responsible for the payment of such taxes, except for local domestic taxes.

Shipping dates

Before making a purchase, please refer to the product pages on the shipping advisory. Estimated shipping advisories are subjected to changes due to COVID19 restrictions and quality control standards. From time to time, there may be countries or jurisdictions where we may be allowed to ship to.

Loss of package/Custom delays

We will only use DHL International Economy/ FedEx International Priority from the point of origin and international airmail for all international orders. Please refer to DHL/FedEx's terms of service in your respective country should you require more information on shipping terms, conditions, and requirements. You understand that any loss of packages or customs delays shall not be within the purview of Kurono, and any claims and correspondence shall be with DHL/FedEx, or with your country's customs authority. While Kurono shall provide assistance with regards to paperwork on a best effort basis, you understand that Kurono shall not be held liable for any matter with this regard.

Additional Measures to stem Speculation and Unauthorized Resale

1. Warranty for Limited Edition Items

a. Warranty or service claims within the first six months of receiving Chronograph II 'shiro' by anyone other than the original buyer on record will be rejected

b. Warranty for any Chronograph II 'shiro' discovered on the resale market within the first six months will be voided
Purchasing Questions
Yes, a valid account is necessary before purchase. We recommend that customers register for an account prior to any pre-order, so that the checkout process will not be delayed.
All warranty and service claims within the first six months of receiving your Chronograph II White 'shiro' must be made through the original purchaser, otherwise it will be denied.
We accept the following payment methods: VISA, Mastercard, American Express (AMEX), Apple Pay & Android/Google Pay only. 
You will be charged 50% of the retail price of the watch on checkout as a Pre-order Deposit, and the remaining balance 50% will be charged in a separate Fulfilment Invoice just prior to delivery.

Conditions of Preorder

Proceeding with this transaction will mean that you agree to the following:

1. Due to the limited nature of this product, preorder deposits are strictly non-refundable

2. Preorders confirmations shall not be resold to third parties.

3. Unless explicitly specific, prices exclude in-country taxes which customers shall settle with customs or the delivery partner at point of import

4. Estimated delivery dates may be affected by force majeure conditions out of our control

5. Hoarding for purposes of resale is frowned upon. We reserve the right to query, void, and blacklist any suspicious/multi-quantity purchases.


Deliveries will start in April 2022, with total completion of all orders expected by end-May 2022.
Payments for all Kurono Tokyo products will be charged only in JPY (¥), unless stated otherwise. 
No, payment should strictly be made by JPY (¥) only. There will be no other currency options available. 
We apologize, as our payment processing partner will only process one credit card per cart checkout.
A tracking number will be sent to you via e-mail once the package has been sent out. If you have more enquiries regarding this, do contact the Kurono team through e-mail at info@kuronotokyo.com
Due to the very short lead times between allocation and delivery, changes of addresses will not be allowed. Successful customers are advised to enter an accurate shipping address at the invoice finalization stage. Any changes after the fact may result in cancellation of your order and reallocation of your Chronograph II White 'shiro' to another customer.